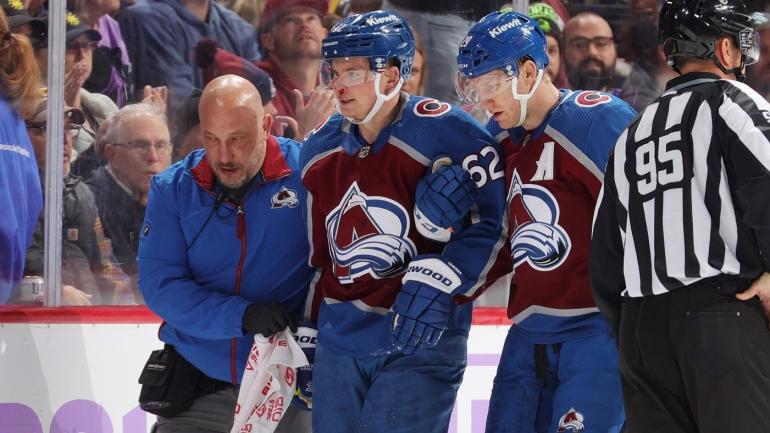 Getty Images
The Colorado Avalanche will be without forward Artturi Lehkonen for the foreseeable future. Lehkonen suffered an injury after a dangerous collision with Seattle Kraken defenseman Jamie Oleksiak on Thursday night.
In the second period of the Avalanche's 4-3 loss to the Kraken, Oleksiak bumped Lehkonen as he was going into the corner for a loose puck. Lehkonen lost his footing and went into the boards headfirst before collapsing to the ice.
Lehkonen was eventually helped to his feet and taken to a hospital, and he avoided very serious injury. However, Colorado head coach Jared Bednar said on Saturday that Lehkonen will be out for "weeks" while he recovers.
"We're still gathering information, but he's gonna miss weeks," Bednar said. "Can't give you a timeline yet."
Bednar also dismissed the idea that it was a dirty play by Oleksiak. He said it was just an unfortunate hockey play on a patch of rough ice.
"Yeah, I don't think it's a penalty," Bednar said. "I just think it's the ice they're making contact in there. Just the way he loses his footing and goes in head first."
Lehkonen was off to a strong start in his second full season with the Avalanche. In 12 games before the injury, Lehkonen had tallied three goals and five assists while playing a key role in Colorado's top six.
The Avs are 8-4-0, and they will have to find a way to keep pace with the Dallas Stars at the top of the Central Division in Lehkonen's absence.