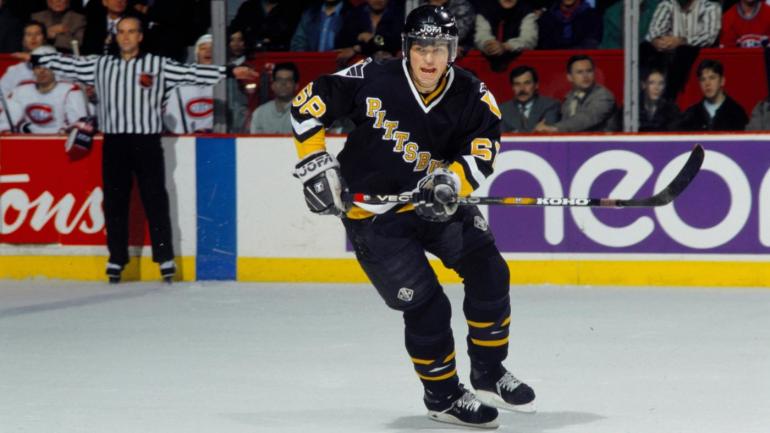 Getty Images
More than 20 years after his final game with the franchise, Jaromir Jagr's iconic No. 68 will be retired by the Pittsburgh Penguins. On Friday, the Penguins announced Jagr's jersey will be lifted into the rafters on Feb. 18, 2024.
The Penguins will retire Jagr's number in a ceremony prior to their game against the Los Angeles Kings, making him just the third player in team history to receive the honor. It will be a celebration that is long overdue for one of the greatest players in franchise history.
Pittsburgh drafted Jagr with the No. 5 overall pick in the 1990 NHL Draft, and he spent the first 11 seasons of his lengthy career with the team. In his first two years with the Penguins, he and Mario Lemieux led the team to back-to-back Stanley Cups. Over the course of those two playoff runs, Jagr notched 14 goals and 23 assists in 45 games played.
Those two Stanley Cup wins were only the beginning of a legendary career for Jagr. In his 11 years with the Penguins, Jagr totaled 439 goals and 640 assists in 806 games. He won the Art Ross Trophy as the NHL's leader in points five times, and Jagr took home the Hart Trophy in the 1998-99 season.
Following the 2000-01 season, Jagr signed with the Washington Capitals in free agency, but he still ranks highly in the Penguins' record books. Jagr is fifth in games played, fourth in goals, fourth in assists and fourth in points.
After his time in Pittsburgh, Jagr went on to play 13 more seasons in the NHL with eight different teams. He finished his illustrious career with 1,921 points, which ranks second all-time behind only Wayne Gretzky.