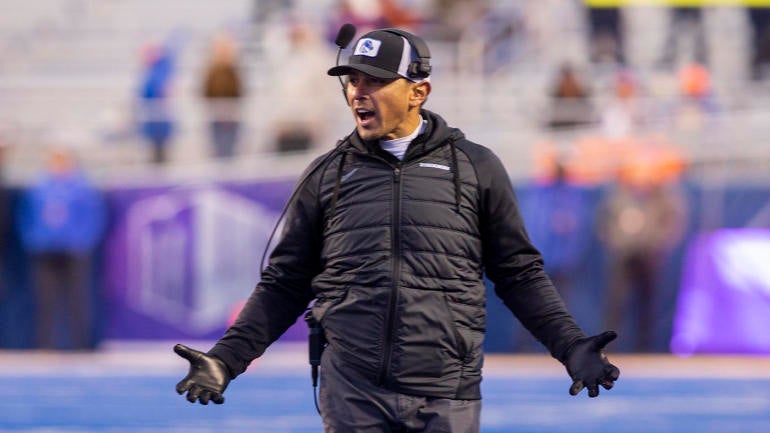 USATSI
Boise State is set to fire head football coach Andy Avalos, according to ESPN. The decision comes one day after Boise State defeated New Mexico 42-14 to improve to 5-5 on the season and 4-2 in the Mountain West. Despite the victory in Week 11, this impending move makes it crystal clear that those records are not good enough for Boise State brass.
Avalos returned to Boise State ahead of the 2021 season after Bryan Harsin's departed for Auburn. Avalos played linebacker for the Broncos, leading the team in tackles for three straight seasons from 2002-04, and was named a first-team All-WAC player twice. He entered the coaching profession shortly after his college career, becoming an assistant at Boise State in 2012. Avalos spent the next seven seasons with the Broncos and worked his way up to defensive coordinator. After taking the same job with Oregon for two seasons, he returned to Boise with the hope of restoring the program to the heights it often reached under former coach Chris Petersen.
That level of success has remained out of reach. After a lackluster 7-5 debut season, things looked to be trending in the right direction in 2022. The Broncos finished the year 10-4 and reached the Mountain West Championship Game where they lost to Fresno State. As a result, they entered 2023 as one of the favorites in the league but started the season with losses to Washington and UCF. The Broncos improved in Mountain West play this season but find themselves looking up in the standings at Air Force, UNLV and Fresno State with a 2024 recruiting class currently ranked 69th nationally and third in the Mountain West.
CBS Sports will update this story shortly.