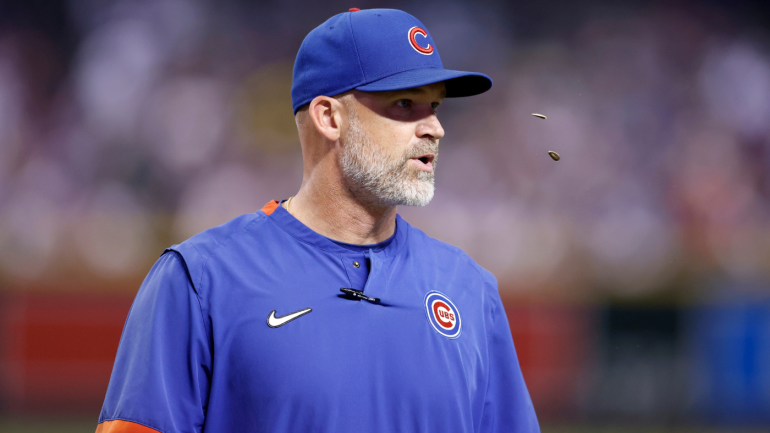 Getty Images
Earlier this week, the Chicago Cubs shocked the baseball world when they hired manager Craig Counsell away from the Milwaukee Brewers. The shock was not Counsell leaving the Brewers. The shock was the Cubs being the team that hired him because they already had a manager: David Ross. The team dismissed Ross so they could hire Counsell.
"This is no knock on Rossy, who I think incredibly highly of," Cubs president of baseball operations Jed Hoyer said. "But Craig is at the very top of the game. It's hard to rank managers but he's at the very top of the game."
On Thursday, Ross spoke for the first time since being dismissed by the Cubs, and while he did acknowledge having some anger, he made sure to thank the organization for giving him a chance. Here's what Ross told the Tallahassee Democrat, his hometown newspaper:
"I think the thing that comes over me is that I am extremely thankful for the opportunity, to be honest," an emotional Ross told the Tallahassee Democrat in an exclusive interview Thursday.

"There was a lot of people who worked really hard alongside me. … I am really thankful for the four years I got, coming from zero coaching experience to getting the chance to manage such a great organization that has impacted my life in a great way. There's great people there. I really don't have a whole lot negative to say, to be honest.

"I get mad from time to time but I have a lot to be thankful for."
Ross, 46, retired as a player after winning the World Series with the Cubs in 2016. He joined the Cubs as a special assistant in baseball operations in Jan. 2017 and also worked as a color commentator with ESPN. The Cubs named him their manager in Oct. 2019, so while Ross had some front office experience, he had no coaching or managing experience whatsoever. He went from the broadcast booth to the dugout.
In four seasons under Ross the Cubs went 262-284 (.480), though Chicago spent several of those seasons rebuilding, or at least retooling. The Cubs won the NL Central in the 60-game pandemic season in 2020 and they hung around the postseason race deep into September in 2023.
Ross signed a three-year contract extension in March 2022. The Cubs are still on the hook for his salary in 2024. Chicago reset the managerial salary scale by giving Counsell a five-year, $40 million contract.