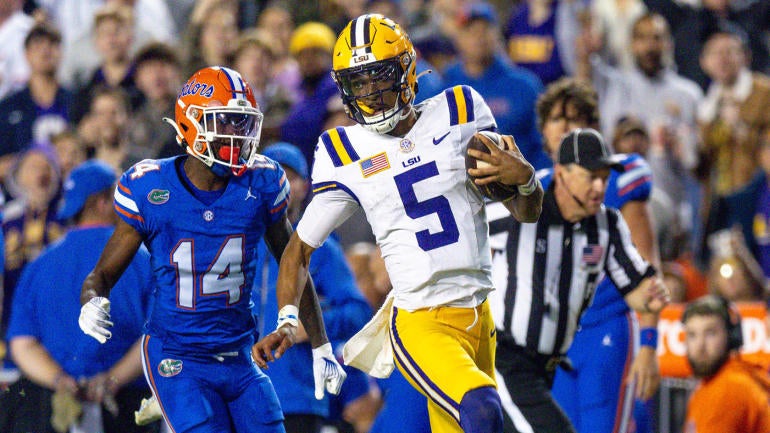 USATSI
After exiting the Week 10 loss to Alabama with concussion symptoms, LSU quarterback Jayden Daniels was considered questionable heading into Saturday's home game against Florida. But there was nothing questionable about his performance in a 52-35 win over the Gators. Daniels became the first player in FBS history to throw for at least 350 yards and rush for at least 200 yards in the same game. 
Not this year, this decade or this century. Ever. 
Daniels' 606 yards of total offense included 372 yards passing and 234 yards rushing — 85 of which came on the longest run by an LSU quarterback in program history in the second quarter. He scored five touchdowns in all. 
Daniels didn't just smash single-game records either. He became the first player in FBS history to eclipse the 12,000-yard mark through the air and 3,000-yard mark on the ground in a career with his historic performance vs. the Gators in Death Valley.
Is his season worthy of the Heisman Trophy? It's hard to argue against him.
Generally speaking, quarterbacks on national championship contenders have the best chance. Over the last 20 years, however, three players have won it despite theirs teams finishing with three or more losses:  Florida quarterback Tim Tebow (2007), Baylor quarterback Robert Griffin III (2011) and Louisville quarterback Lamar Jackson (2016).  
Daniels entered the weekend at +2500 in Heisman Trophy odds and behind multiple players, including Washington's Michael Penix Jr. Daniels might have to wait to see what Penix, Oregon quarterback Bo Nix, Michigan quarterback J.J. McCarthy, Florida State quarterback Jordan Travis and Ohio State wide receiver Marvin Harrison Jr do down the stretch. However, he has made a great case to be a favorite going into the final two weeks of the season.