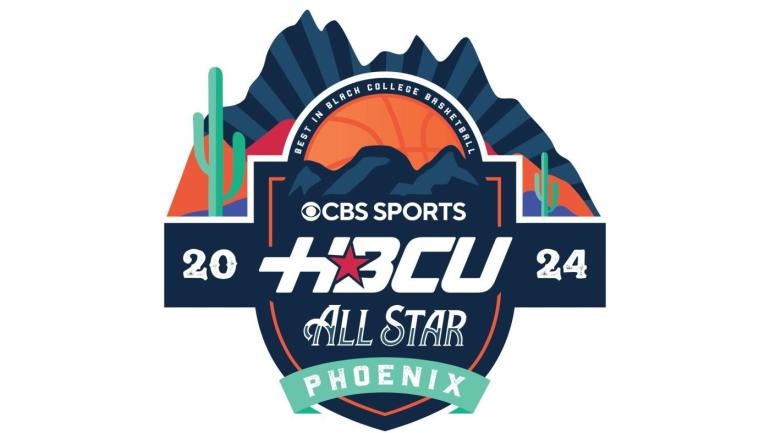 When the third annual HBCU All-Star Game tips off at the end of this season, the best players from the nation's historically black colleges and universities will put their skills on national display in the showcase opportunity in a game televised on CBS. But the journey to the game is already underway, and the first few weeks of the season have provided a chance for players to make their case for selection.
The 2023-24 HBCU All-Stars Watch List features players from across the country who have separated themselves from the pack to receive consideration to be among the final players who make the cut. The game will be held at Grand Canyon University as the college basketball world descends on the Phoenix area for the Final Four at the end of this season. Tip is set for April 7 at GCU Arena on the campus of Grand Canyon University.
Players from the MEAC and SWAC, Tennessee State, North Carolina A&T and Hampton of Division I are eligible. Players from the CIAA and SIAC of Division II will also be invited to the game, which is one part of a larger set of HBCU All-Star Game festivities. Other events include HBCU All-Star Game Experience, a week-long festival as well as HBCU college admissions fair, a pro day, awards ceremony and and a social justice and civil rights panel discussion.
Here is the full list of players named to the 2024 All-Stars Watch List:
Alvin Attles, Jr North Carolina A&T State University (CIAA) POINT GUARDS
| | | |
| --- | --- | --- |
| 1. Chase Adams | 5'8 – 144 lbs | Jackson State University |
| 2. Mark Bradshaw | 6'1 – 190 lbs | Bowie State University |
| 3. Fred Cleveland Jr. | 5'9 – 165 lbs | North Carolina Central University |
| 4. PJ Henry | 5'10 – 177 lbs | Texas Southern University |
| 5. Brandon Hill | 6'1 – 170 lbs | Kentucky State University |
| 6. Ja'Darius Harris | 6'2 – 175 lbs | North Carolina Central University |
| 7. Christian Ings | 6'2 – 180 lbs | Norfolk State University |
| 8. Javontae Hopkins | 6'0 – 165 lbs | Prairie View A&M University |
| 9. Tra'Michael Moton | 6'1 – 170 lbs | Grambling State University |
| 10. Dhashon Dyson | 6'1 – 190 lbs | Bethune-Cookman University |
John Chaney Bethune-Cookman University (SIAC) SHOOTING GUARDS
| | | |
| --- | --- | --- |
| 1. Jeremiah Gambrell | 6'3 – 190 lbs | Alcorn State University |
| 2. Brandon Smith | 6'3 – 180 lbs | Benedict College |
| 3. Kinyon Hodges | 6'2 – 180 lbs | Tennessee State University |
| 4. Tedrick Wilcox Jr. | 6'8 – 185 lbs | Hampton University |
| 5. Charles Lane Jr. | 6'5 – 195 lbs | Prairie View A&M University |
| 6. Charles Smith IV | 6'5 – 185 lbs | Prairie View A&M University |
| 7. Zahad Munford | 6'3″ – 170 lbs | Grambling State University |
| 8. Raquan Brown | 6'3 – 200 lbs | South Carolina State |
Robert Earl "Bob "Love Southern University (SWAC) SMALL FORWARDS 
| | | |
| --- | --- | --- |
| 1. Jordan Gibson | 6'5 – 195 lbs | Virginia Union University |
| 2. Jeremiah Kendall | 6'7 – 215 lbs | Alcorn State University |
| 3. Jaylen Alston | 6'4 – 175 lbs | Winston-Salem State University |
| 4. Tyler Foster | 6'5 – 200 lbs | Fayetteville State University |
| 5. Kaleb Coleman | 6'6 – 215 lbs | Fayetteville State University |
| 6. Tedrick Wilcox | 6'6 – 186 lbs | Hampton University |
| 7. Asanti Price | 6'5 – 180 lbs | Benedict College |
| 8. Christian Wells | 6'5 – 185 lbs | LeMoyne-Owen College |
| 9. Reginald James | 6'4 – 180 lbs | Albany State University |
| 10. Tre Richardson | 6'4 – 185 lbs | Elizabeth City State University |
| 11. Jelani William | 6'5 – 201 lbs | Howard University |
| 12. Deven Richmond | 6'4 – 195 lbs | Bowie State University |
| 13. Rodrique Massenat | 6'6 – 193 lbs | Alcorn State University |
Leonard Eugene "Truck" Robinson Tennessee State University (Independent) POWER FORWARDS
| | | |
| --- | --- | --- |
| 1. Josh Lusane | 6'7 – 200 lbs | Hampton University |
| 2. Jamir Moore | 6'6 – 185 lbs | Albany State University |
| 3. Clint Wickliffe | 6'6 – 185 lbs | Winston-Salem State University |
| 4. Joel Webb | 6'7 – 185 lbs | Bowie State University |
| 5. Romelle Mansel | 6'9 – 195 lbs | Jackson State University |
| 6. Jordan O'Neal | 6'7 – 200 lbs | Jackson State University |
| 7. Emmanuel Izunabor | 6'8 – 225 lbs | North Carolina Central University |
| 8. Syrus Grisby | 6'8 – 225 lbs | Prairie View A&M University |
| 9. Terrence Lewis | 6'6 – 205 lbs | Grambling State University |
| 10. Kyle Johnson | 6'8 – 185 lbs | Delaware State University |
| 11. Myles Thompson | 6'7 – 245 lbs | Morgan State University |
Zelmo "Big Z" Beaty Prairie View A&M University (SWAC) CENTERS
| | | |
| --- | --- | --- |
| 1. Jordan Gibson | 6'5 – 195 lbs | Virginia Union University |
| 2. Jeremiah Kendall | 6'7 – 215 lbs | Alcorn State University |
| 3. Jaylen Alston | 6'4 – 175 lbs | Winston-Salem State University |
| 4. Tyler Foster | 6'5 – 200 lbs | Fayetteville State University |
| 5. Kaleb Coleman | 6'6 – 215 lbs | Fayetteville State University |
| 6. Tedrick Wilcox | 6'6 – 186 lbs | Hampton University |
| 7. Asanti Price | 6'5 – 180 lbs | Benedict College |
| 8. Christian Wells | 6'5 – 185 lbs | LeMoyne-Owen College |
| 9. Reginald James | 6'4 – 180 lbs | Albany State University |
| 10. Tre Richardson | 6'4 – 185 lbs | Elizabeth City State University |
| 11. Jelani William | 6'5 – 201 lbs | Howard University |
| 12. Deven Richmond | 6'4 – 195 lbs | Bowie State University |
| 13. Rodrique Massenat | 6'6 – 193 lbs | Alcorn State University |