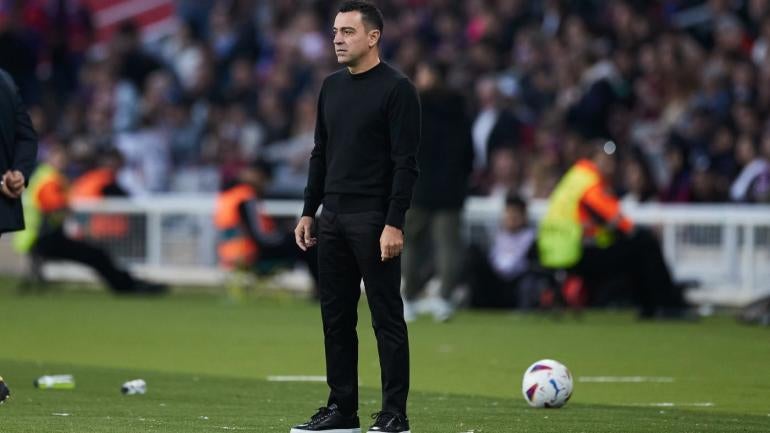 Getty Images
At halftime of their match against Alaves on Sunday, Barcelona seemed to be staring disaster in the face as they were behind by a goal to newly promoted Alaves. A brace from Robert Lewandowski was able to ensure that Barcelona didn't drop back-to-back games but worry still remains about their overall form in a tight La Liga title race. Xavi's men are already behind league leaders Girona by four points and two points behind Real Madrid while Atletico Madrid are on their heels.
Looking to retain the La Liga crown, the start to the season hasn't been good enough but Xavi spoke following the match that his team is struggling to cope with external pressure that is heaped upon them. With Gavi, Pedri, Fermin Lopez and Lamine Yamal all becoming regular members of the starting rotation, Barcelona's youth has been their strength but with such a young team, that strength can also be their downfall.
"Without doubt what the media say affects how the team plays," Xavi said following the match. "The [media] create situations and scenarios that, for me, are not real. And it affects, without any doubt, the team. It happened to me as a player and it's happening to my players. There is a negativity which is not good or positive at all."
"Above all, it affects the youngest players. You see [Iñigo] Martínez, Lewandowski, [João] Cancelo and Gundogan, it does not affect them. But we have a lot of youngsters and we have to protect them and give them confidence. [The performances] are our fault, of course, but the youngsters feel a tension that a month ago didn't exist. It is a difficult situation that we have to manage, but it's hard, especially after conceding an early goal."
While that's quite honest to hear from the Barcelona manager, he hit the nail on the head that he has been someone who went through this level of external pressure as a player. Despite injuries, as a manager, he has to put his team in the best position possible to succeed even if it means that they all shouldn't start together. 
Lewandowski's goals will help as the Polish attacker had gone six consecutive appearances for Barcelona without finding the back of the net. Xavi and the young players need this Lewandowski consistently otherwise Barcelona's title hopes won't be more than a dream, but blocking out the external noise will also be critical as we hit the halfway point.
Our Latest Soccer Stories