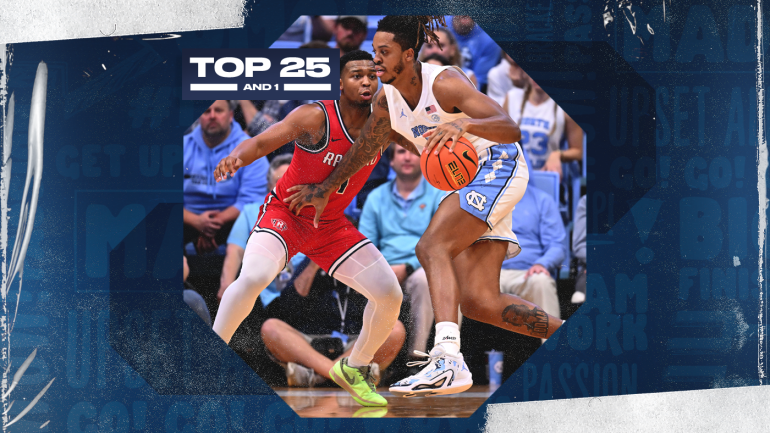 Getty Images
North Carolina's Armando Bacot was No. 2 on CBS Sports' annual list of the Top 100 And 1 college basketball players heading into this season, which I believe garnered more pushback from fans than any other ranking of any other player.
Was Bacot No. 2 on my ballot?
No.
That's slightly higher than I had him. But I did have the 6-foot-11 center at No. 4 and never really understood the controversy connected to his No. 2 ranking because — perhaps the Tar Heels' struggles in general last season made some forget, but — Bacot is undeniably a tremendous college basketball player, one of the very best, and he provided a reminder Sunday by finishing with 22 points and 20 rebounds in UNC's 90-68 victory over Lehigh.
It was the third 20-20 game of Bacot's career.
"It is what is required and needed to be the best we can be," said North Carolina coach Hubert Davis. "There's a sense of urgency [present this season] that I haven't [previously] seen in him."
Bacot is now averaging 23.5 points and 16.5 rebounds through two contests for North Carolina, which is No. 21 in Monday morning's updated CBS Sports Top 25 And 1 daily college basketball rankings. He is shooting 60.0% from the field and on track to be an All-American for the second straight year.
Next up for UNC is Friday's game against UC Riverside. After that, the Tar Heels will compete in the Battle 4 Atlantis, where they'll open with Northern Iowa and then play Villanova or Texas Tech before closing the three-game event with a contest against either Arkansas, Memphis, Michigan or Stanford.
Itching for more college hoops analysis? Listen below and subscribe to the Eye on College Basketball podcast where we take you beyond the hardwood with insider information and instant reactions.
Top 25 And 1 rankings