In addition to the Wildcats and Red Storm falling on Monday, Xavier came up short against second-ranked Purdue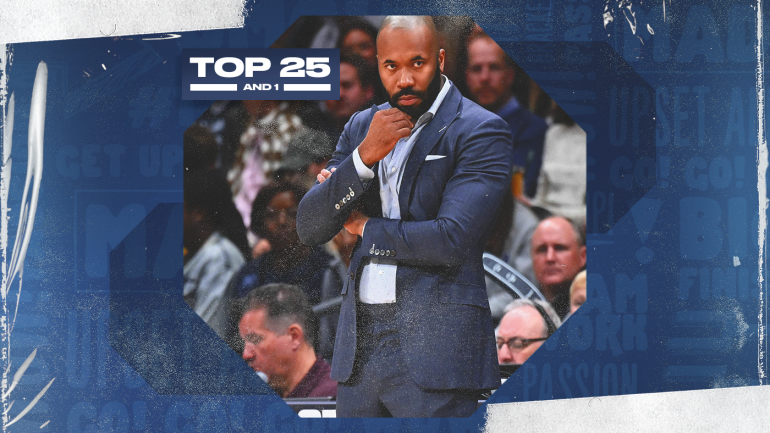 CBS Sports Graphic
It was a rough Monday for the Big East — inside and outside of the Gavitt Tipoff Games. Xavier fell to Purdue, 83-71. No shame there. But Villanova and St. John's also lost (as favorites) — the Wildcats to Penn, 76-72, and the Red Storm to Michigan, 89-73. Those results caused Villanova and St. John's to be removed from Tuesday morning's updated CBS Sports Top 25 And 1 daily college basketball rankings.
They've been replaced by Colorado and Virginia.
Kansas remains No. 1.
A lot of attention has been paid to what Kenny Payne has done to Louisville's program since taking over in advance of last season, but it should be noted that things aren't going too well for Kyle Neptune at Villanova either. To be clear, the situation at Louisville is way worse and likely to end following this season, if not sooner, based on how Payne guided the Cardinals to an embarrassing 4-28 record in Year 1 and is now 1-1 in Year 2 with an 81-71 loss at home to Chattanooga. After finishing an unimaginable 290th at KenPom.com last season, the Cardinals have already dropped from 109th to 179th in this season that is still only eight days old.
So, again, the situation at Louisville is way worse.
Don't get it twisted.
But Neptune did miss the 2023 NCAA Tournament in Year 1 after being ranked 16th in the preseason Associated Press Top 25 poll, and now he's suffered what was only Villanova's second loss in its past 20 games against Penn. 
Can things be turned around?
Of course.
It's possible we'll look up in a few years and say that though Neptune's time at Villanova got off to an uneven start, he ultimately settled into the job and returned the Wildcats to a place where they're annually considered Big East favorites, or at least contenders. I wouldn't rule that out. But there's no getting around the fact that Neptune lost to a sub-100 KenPom team (Temple) in the first week last season, another sub-100 KenPom team (Penn) in the second week this season, and a total of five sub-100 KenPom teams in his first 37 games at Villanova. For some context, consider that Neptune's predecessor, Jay Wright, only lost to sub-100 KenPom teams twice in his final 321 games as Villanova's coach. Again, Neptune has already done it five times in just 37 contests.
Itching for more college hoops analysis? Listen below and subscribe to the Eye on College Basketball podcast where we take you beyond the hardwood with insider information and instant reactions.
Top 25 And 1 rankings
IN: Colorado, Virginia
OUT: Villanova, St. John's
Our Latest College Basketball Stories