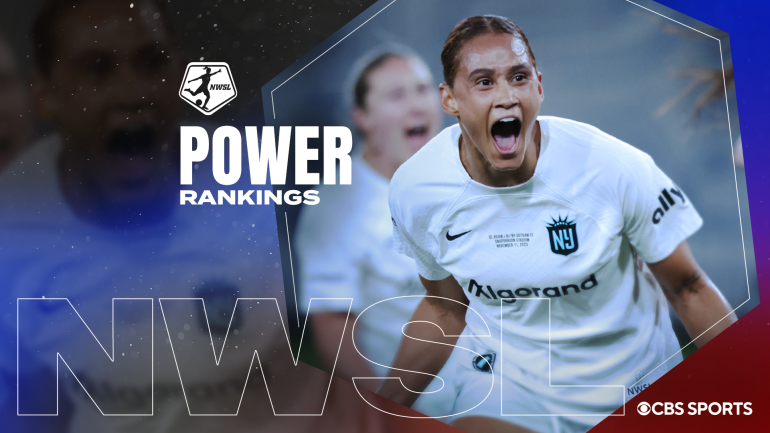 Getty Images
NJ/NY Gotham FC players might still be finding confetti in their clothes after Saturday's dramatic win over the OL Reign in the NWSL Championship, but it's never too early to look ahead to next season.
An incredibly competitive 2023 campaign feels like the foundation for another tight season in 2024, especially as teams look to improve during the offseason. With two expansion teams coming in, an impressive list of talent available as free agents, and four coaching vacancies to be filled, turnover is in the cards across the league this offseason.
Please check the opt-in box to acknowledge that you would like to subscribe.
Thanks for signing up!
Keep an eye on your inbox.
Sorry!
There was an error processing your subscription.
That makes predicting just how the 2024 season will shake out an incredibly difficult task, and there's no doubt this ranking will look pretty different once coaches are hired and rosters are locked in. Ahead of an offseason that could be just as dramatic as the season before it, it is worth assessing how well-positioned each of the NWSL's teams are to achieve success this time next year — and which sides will need to spend the next few months filling in that room for improvement.
Here are your way-too-early power rankings for the 2024 NWSL season.
| RANK | TEAM | ANALYSIS |
| --- | --- | --- |
| 1 | San Diego Wave | The 2023 Shield winners arguably have the most complete squad in the league and are in a position where they need to focus on little fixes, not big ones, to stay in the NWSL's top ranks. |
| 2 | NJ/NY Gotham FC | Year 1 under Coach of the Year winner Juan Carlos Amoros ended in impressive fashion, which builds excitement for where he will take the squad next season. As the oldest squad to ever compete in the championship game, though, they may want to consider getting younger for 2024. |
| 3 | OL Reign | The 2023 runner-up will probably fare well in 2024 as is, but may need to restructure their offense slightly now that Megan Rapinoe has officially retired. |
| 4 | Portland Thorns | The Thorns can still outscore anyone, but need to make improvements in defense after conceding the third-most goals during the regular season. |
| 5 | North Carolina Courage | The Courage seem to be latching onto Sean Nahas' possession-based style well, but have improvements to make in attack after finishing third-to-last for expected goals, especially now that league MVP Kerolin is out with an ACL tear. |
| 6 | Washington Spirit | The team may be in need of a new coach, but have the tools necessary to rebound after missing out on a playoff berth in 2023. A primary area of focus should be attack, since they underperformed their expected goals tally significantly this year. |
| 7 | Kansas City Current | If any team has the most upside after a rough 2023, it is arguably the Current. Vlatko Andonovski is expected to provide steadiness to the team, and Sam Mewis' return from injury should provide quite the boost for Debinha and company. |
| 8 | Angel City FC | All eyes will be on Becki Tweed to see if she can continue 2023's impressive run into long lasting success, but there's room for improvement in defense for an attack-heavy squad. |
| 9 | Houston Dash | The Dash's success next season feels dependent on the vision their new coach, whoever that happens to be, brings. The squad, though, does have a strong defensive framework after conceding the fewest goals of any team in the regular season. |
| 10 | Racing Louisville | Much like the team above them, the direction of this team will likely be dedicated by the incoming coach. Louisville did have a productive attack that posted the second-most shots in the NWSL, but misfired frequently enough to rank eighth on shots on goal percentage. |
| 11 | Orland Pride | This was a season of hovering in the middle of the pack for the Pride, who had their moments but have yet to hit their stride under Seb Hines after his first full year in charge. They seem not to have gelled as a team quite yet, and may need some squad updates before doing so. |
| 12 | Chicago Red Stars | The roster has been hit by outgoings for several years, and is very much gearing up for a rebuild after an ownership change and a soon-to-come coaching update. Mallory Swanson is a great focal point to start with, but this could be a reboot that requires more than one season. |
| 13 | Bay FC | With no players and a coach in Albertin Montoya, who has not coached in the club game since 2010, it's hard to project where this expansion team will land in Year 1. General manager Lucy Rushton has successes under her belt as a member of the analytics team at MLS' Atlanta United, which shows signs of promise. |
| 14 | Utah Royals | If Bay FC's prospects are hard to gauge, it's slightly harder to figure out the Royals at this stage. Former USWNT forward Amy Rodriguez is taking on her first professional head coaching role, so it's difficult right now to predict the direction she will take them in. |
Our Latest Nwsl Stories