To ask Kentucky fans to modestly accept defeat, no matter the circumstances, is a non-starter. Never going to happen. Not at that place, with that tradition, where basketball means as much or more than anywhere in the country. 
However, after falling to top-ranked Kansas 89-84 in Tuesday night's Champions Classic, UK fans can at least feel good about one development with John Calipari's program. Kentucky's got a chance to be a thrill ride over the next four-or-so months. 
The No. 17 Wildcats are fun to watch for the first time in a long time. Fun is good. More importantly, fun isn't fleeting, or at least shouldn't be with this team. 
True: Kentucky blew a 14-point second half lead and is flying home with a loss because it lost its grip. 
True: Projected lottery picks Justin Edwards and DJ Wagner combined for five points on 1-of-18 shooting, which is a statistical calamity. 
True: Kentucky's decision-making at multiple points in the final 10 minutes made it look like the obviously unripe roster that it is.
Other side of this, and also true: Kentucky held its own in a game into the 80s against the favorite to win the 2024 national title. This type of battle was barely possible a year ago. The Wildcats traded blows and played with vigor despite Hunter Dickinson's gargantuan performance (27 points, 21 rebounds). Kentucky had a chance to send the game into overtime even while KU point guard Dajuan Harris put up a personal-best 23 points to pair with seven assists. And Calipari's team was able to put a scare into KU without having the size to match Kansas' big bodies, evidenced all the more by bruising Jayhawk grad senior Kevin McCullar logging a 12/10/10 triple-double.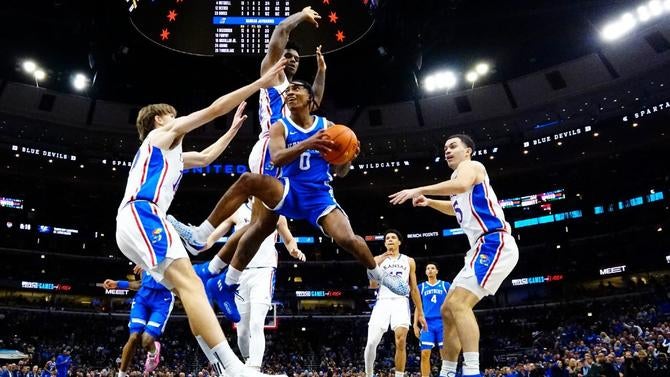 Kansas is big on size, yet it was incapable of pushing Kentucky around. Even after a 20-4 run midway through the second half turned the game for KU, Kentucky didn't wilt. It lost its footing — not having anyone with the height to match Dickinson was the clincher — but at least this team looked like it had belief the whole way it could come back and take the game. 
The Wildcats, formerly a 3-point-averse operation, launched 38 triples Tuesday — connecting on 12. (Nine came in the first half.) In an outrageous display of either courage or defiance, Kentucky fifth-year senior Antonio Reeves heaved 17 of those 38 3-pointers, making only three of them. Despite this, he still finished with a team-high 24 points. 
It was a surprise to see Edwards disappear in a big moment and Wagner play skittishly, but they've got coverage. Say hello to two firecracker guards who look capable of keeping UK in the national conversation this year: Rob Dillingham and Reed Sheppard. Dillingham has quick-twitch burst and at times looks like he's got a gear no one else on the floor can equal. If not for foul trouble, his play might have put Kentucky in the win column. As it was, he finished with 18 points on 4-of-5 3-point shooting off the bench in 16 minutes.
Sheppard, son of '90s Kentucky legend Jeff Sheppard, put up the first game that could one day establish a folk tradition of his own. Like Dillingham, he also played 16 minutes off the bench, tallying 13 points and four steals. Toss in Adou Thiero going for 16 points and 13 rebounds. Where did that come from? It was Sheppard's shooting and headiness, then Diillignham's scorching 3-pointers and no-look passes, then Thiero's timely determination that had Kentucky up seven at halftime.
Calipari had his team moving well, spacing, passing like they loved each other and taking trey after trey after trey. The best part might've been just one turnover in the first 19 minutes.
This Kentucky team is going to take some hits, but at least it won't be a bore. Expect a few losses that should be wins, though I'm willing to bet they'll do the reverse and flip a few defeats into victories as well. It's been many seasons since Calipari had a team that crackled like these guys. The learning curve may be steep, but relying on a deep freshman class and pairing that with a few guys who've gone through the battles and endured the at distinct Kentucky-fan backlash — it might lead to a better journey in 2023-24.
Keep in mind, Kentucky was playing without five-star freshman forward Aaron Bradshaw due to injury, and still hasn't gotten fellow big Zvonimir Ivišić cleared by the NCAA.  
It's way too early to say whether this team is going to be top 10-good. What's obvious is that it's going to be entertaining and capable of playing a much more modern style of basketball. The Cats were more deliberate in eliminating mid-range 2-pointers, which has been a notorious trait of Kentucky ball under Cal as of late. 
There's no shame in losing to Kansas because Kentucky wasn't expected to beat Kansas. For some, UK was on the docket to potentially get run out of the gym, as has been the case against some highly ranked competition in recent years. Not this time.
Here's a blue-blood program finding a new way with some traits of some of Calipari's best teams. Lottery-type talent bringing pizzazz and promise to the Bluegrass State. To be clear, the wins are going to need to pile up. Calipari's never had a college season with more pressure on him than this one. Three games in, it looks like he's got a group capable of handling some of that pressure by playing as though it's not in the air. 
The losses are never tolerable, but the signals are encouraging. What we saw from Calipari's program on Tuesday was progress. It's a new look, it's a fun team, it's a group with potential to beat just about anyone.