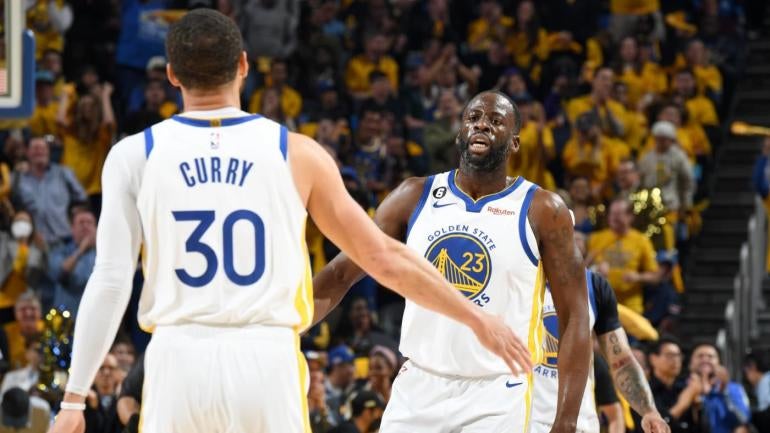 Getty Images
Golden State Warriors forward Draymond Green was ejected in the opening minutes of Tuesday's game against the Minnesota Timberwolves. This came after Green put Timberwolves center Rudy Gobert in a headlock during an altercation just minutes into the game.
Gobert even had a theory as to why Green got ejected so quickly during Tuesday's contest.
"Every time Steph doesn't play, he doesn't want to play without his guy Steph so he does anything he can to get ejected," Gobert said after the game.
Per Spotrac, Green has received 18 ejections since he entered the NBA back in 2012. 
According to research from For The Win NBA writer Bryan Kalbrosky, the first seven ejections of Green's career came in games that Curry was playing in.
The first instance in which Green was ejected while Curry was inactive came on Nov. 11, 2019 against the Utah Jazz, according to Kalbrosky. Curry was dealing with a broken hand at the time, and wasn't on the floor for that particular game. Green ended up receiving a pair of technical fouls during that contest where Gobert was still a member of the Jazz.
Kalbrosky's research also shows that Green's next four ejections came in games in which Curry didn't suit up for. Green was also ejected on Jan. 4, 2020 (vs. the Pistons), Feb. 27, 2020 (vs. the Lakers), Feb. 20, 2021 (vs. the Hornets), March 20, 2022 (vs. the Spurs), and Jan. 4, 2023 (vs. the Pistons). If you count Green's ejection on Tuesday, seven of his last 11 ejections took place in games that Curry wasn't playing in.
As a result of the altercation, Green was handed a five-game suspension for his actions on Wednesday.