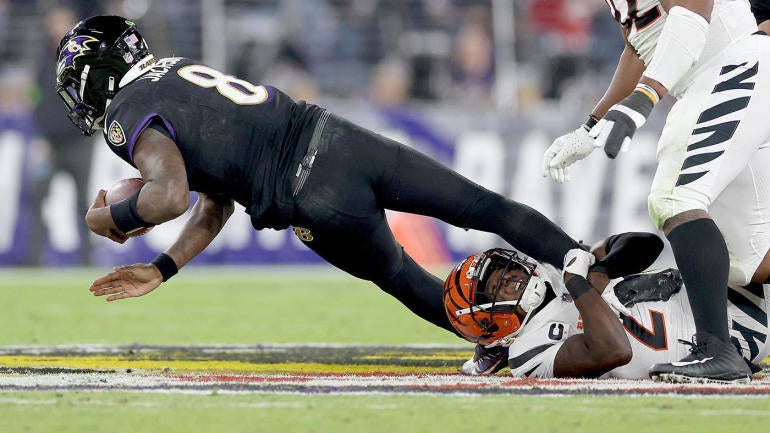 Getty Images
Thursday night's Week 11 opener between the Ravens and Bengals was billed as a heavyweight fight between two division rivals. However, it was more of a battle with the injury bug, who won via knockout. The 34-20 win by Baltimore was overshadowed by several key injuries, including tight end Mark Andrews (feared to have a season-ending ankle injury) and Bengals quarterback Joe Burrow (sprained wrist). And, for a minute, it looked like Lamar Jackson was going to be added to that injured list. 
The Ravens quarterback was hobbled on the club's third possession of the night. On a third-and-4 play, Jackson was flushed out of the pocket and forced to roll out to his right. He was chased down by Bengals linebacker Logan Wilson and the two seemed to tumble down out of bounds awkwardly. Jackson was slow to get up and even laid back down on the turf as he was tended to by trainers. He was already on Baltimore's sideline and was eventually able to get up and sit down on the bench. 
Jackson then went into the blue medical tent for further evaluation of his left ankle. Fortunately for the Ravens, he emerged from the tent and gave those on the sideline a thumbs up, and was able to enter the game without missing a snap on offense. While Jackson continued to play, he was clearly limited by the injury as he had a pronounced limp at times throughout the contest. 
After the game, Jackson downplayed the injury, telling reporters he was fine. 
 "I'm good, we need to stop talking about this ankle," Jackson said, via NFL.com. "I'm good."
Jackson finished his night 16-of-26 passing for 264 yards and two passing touchdowns while adding 54 yards on the ground. While he was able to go wire-to-wire in this game, it will be interesting to see his practice participation level next week when the Ravens gear up for a Week 12 matchup against the Chargers in Los Angeles.