The non-tender deadline was Friday at 8 p.m. ET, and the biggest name was Brandon Woodruff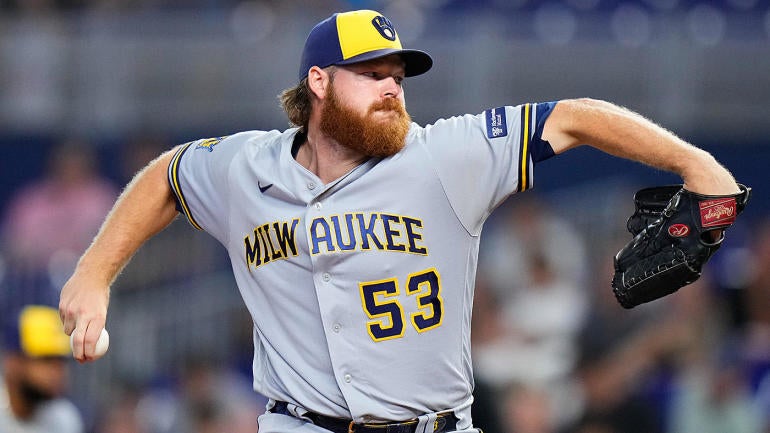 USATSI
The non-tender deadline for Major League Baseball teams fell at 8 p.m. ET on Friday, Nov. 17. Non-tendered players become free agents and the big news here is All-Star starting pitcher Brandon Woodruff now hitting free agency as a result. 
"Today we had to make a very difficult decision relating to one of the best pitchers and human beings in franchise history," Brewers general manager Matt Arnold said in a statement. "Throughout his 10 seasons in the organization, Brandon Woodruff has represented the Brewers with class, kindness, heart and toughness. He is recognized as a tremendous teammate, both on the field and in the community, where he and his wife, Jonie, have positively impacted so many lives around them. We remain very open to his return to Milwaukee, and regardless of what uniform he wears next, Woody will always be a member of the Brewers family." 
The move isn't entirely shocking, as Woodruff, who was only under team control through next season, was expected to make around $11 million in arbitration and will miss most, if not all, of 2024 due to a shoulder injury. As such, it makes sense that the Brewers would rather get out from under those dollars instead of paying Woodruff to rehab and then possibly sign elsewhere in the following offseason. 
The only question, really, was if the Brewers would reach a trade before the non-tender deadline. Any trading team would have the option to try and extend Woodruff during the season while also hoping he'd make it back in time to help the 2024 club. As it turns out, no deal was consummated and Woodruff is now a free agent. 
Woodruff, 30, is a two-time All-Star and finished fifth in Cy Young voting in 2021. In 11 starts last season, he was 5-1 with a 2.28 ERA, 0.82 WHIP and 74 strikeouts in 67 innings. He was unable to make a playoff start due to the shoulder injury and he needed to undergo surgery in the middle of October. If history is any indication, Woodruff is likely to get a two-year deal this offseason that is heavily backloaded. The signing team would be looking to monitor his rehab and then have Woodruff ready to contribute in 2025. 
For those unaware, this entire deadline centers around players either in their pre-arbitration years or, more likely, their arbitration years. Essentially, teams generally non-tender players when they don't believe the player will be worth the salary he's set to make in 2024. It's tantamount to "cutting" or "releasing" a player, though players can still be signed by a team after being non-tendered. Players in pre-arb or arbitration are either "tendered" a contract or get non-tendered here, for the most part. There are greater complexities, but those aren't important for our purposes. 
Here are all the names who were non-tendered on Friday and thus are now part of the free agent pool for the 2022-23 offseason. Names are organized by the non-tendering team:
Our Latest MLB Stories