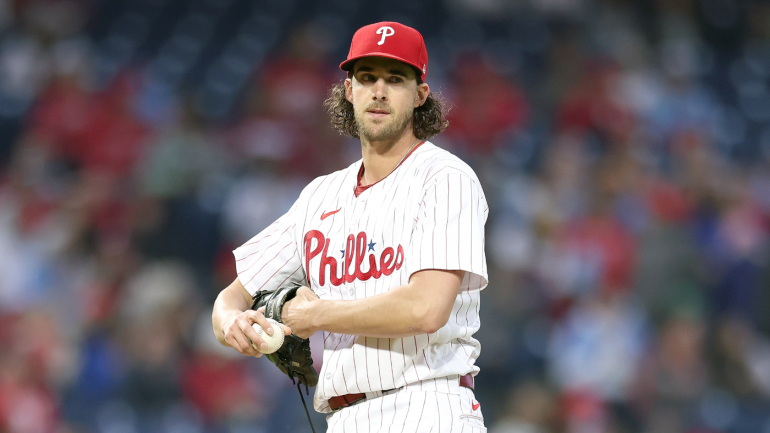 Getty Images
The Philadelphia Phillies and right-hander Aaron Nola have reached an agreement on a seven-year pact worth $172 million, the team announced Sunday.
Nola, a longtime rotation linchpin, is coming off a 2023 season in which he pitched to a 4.46 ERA (96 ERA+) and a 4.49 strikeout-to-walk ratio in 193 2/3 innings. Those run-prevention numbers are well below his established standards, so there's hope for a rebound on those grounds alone. More broadly, the Phillies are betting on Nola's history as a front-end workhorse and against concerns by his declining strikeout capacities. They certainly know him better than any other team — and perhaps that explains why he took less money to return, according to The Athletic's Matt Gelb.
"At the outset of this offseason, we made signing Aaron our top priority," president of baseball operations David Dombrowski said in a statement. "We are committed to winning, and having an individual like him in our uniform for years to come only helps us in that regard. Aaron has proven to be one of the best and most durable pitchers in our game for a number of years now, and when considering his leadership abilities and his character, it was very important for us to keep him a part of the Phillies family."
Coming into the offseason, CBS Sports ranked Nola as the fifth-best free agent available in the 2023-24 class. Here's what we wrote at the time: 
Nola has an inverse Saberhagen thing going on. He's been excellent in recent even years and only average in odd years. There's no predictive power to be found in that observation, but noticing patterns in the wild sure pleases the lizard brain. Anyway, several veteran talent evaluators expressed that they would prefer to sign Nola over Blake Snell no matter the financial component. The reasoning is straightforward: Nola's ERA has bobbed up and down over the last handful of seasons, but he throws a lot of strikes and has required just one stint on the injured list since 2018. We suspect teams will be interested in seeing how Nola performs in front of a different defense, too.
Nola, who on three occasions has finished in the top 10 of the NL Cy Young vote, will going into his age-31 season in 2024. 
With Nola back in tow, the most notable departure the Phillies figure to suffer this winter is that of first baseman Rhys Hoskins. Hoskins would not seem to have a spot in the lineup given that Philadelphia has signaled they intend to use Bryce Harper at first base heading forward. Hoskins, of course, missed the 2023 season after tearing his ACL in the spring.