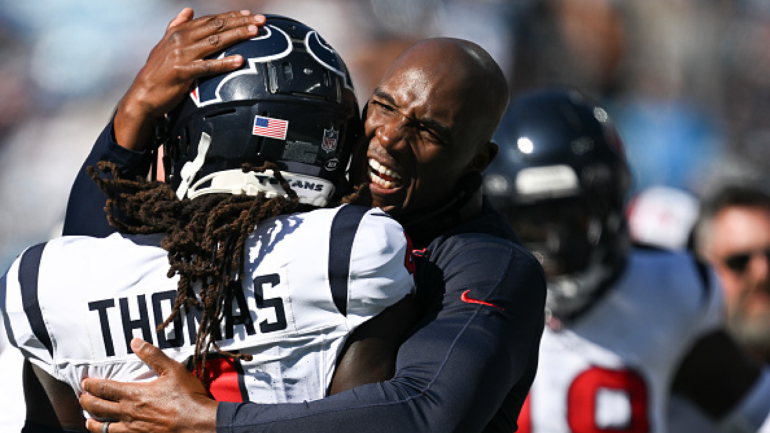 Getty Images
DeMeco Ryans knows exactly when he decided to wanted to pursue a career in coaching. It was Ryans' first foray into coaching that led him on his path to becoming the Houston Texans' head coach. 
Ryans, during an interview on The NFL Today with Hall of Fame coach and CBS Sports NFL analyst Bill Cowher, said that his desire to get into coaching started during his time as an assistant coach at his high school, Bessemer City High School, following the NFL's 2011 lockout season. 
"After the lockout year, I was able to go back to my high school and started helping out and ended up coaching defense for my high school during spring ball," Ryans said during a one-on-one interview with Cowher. "I fell in love in coaching. I thought I was just helping out, but I would be up late, drawing blitzes making sure everyone got a blitz. 
"The way they accepted me and the way they had fun, I think that's where I got my style from. Football is supposed to be like this, like high school. You're with your guys, you're just having fun playing football."
Anyone who has watched the Texans play this season has seen Ryans' high school vibe in full effect. An early example of it took place in Week 1, when Ryans celebrated rookie first-round pick Will Anderson Jr.'s sack of Lamar Jackson. While his team was trailing by double digits at the time, Ryans realized the significance of the moment. 
Ryans, who has led the Texans to a surprising 5-4 start, discussed a myriad of other topics with Cowher, including how the game has changed since his playing days, his funny take on his relationship with former 49ers co-worker and current Jets coach Robert Saleh, and the mutual admiration that exists between Ryans and JJ Watt, who was a rookie when Ryans took him under his wing in Houston. 
Be sure to check out the full Ryans' interview with Cowher on The NFL Today on CBS Sports, which airs Sunday starting at 12 p.m. ET on CBS and streams on Paramount+.