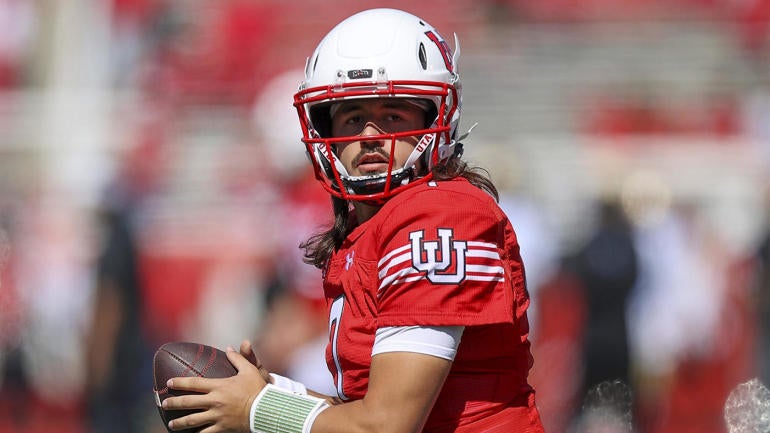 USATSI
Utah quarterback Cam Rising announced he will return in 2024 for a sixth season on Sunday. Rising redshirted this season while recovering from a knee injury suffered in Utah's Rose Bowl appearance at the conclusion of the 2022 season. He posted a highlight video to Twitter along with the words "one more year."
The announcement formalized what many expected. Utes coach Kyle Whittingham revealed on Oct. 22 that Rising and star tight end Brant Kuithe would not play this season and would have the option of pursuing medical redshirts.
Rising's knee injury in the Rose Bowl proved more complicated than just a torn ACL. He revealed in early October that he suffered additional injuries when he went down after guiding the Utes to a second straight Pac-12 Championship.
"I wasn't really expecting to do this, but I think it's important that I just let everybody know that I didn't just tear my ACL," Rising said during an appearance on The Bill Riley Show. "I tore my ACL, meniscus, MPFL and MCL. There was a big surgery, and it's not an easy comeback. I've been working my tail off." 
With Rising out, the Utes turned to Nate Johnson and former walk-on Bryson Barnes at quarterback this season. Barnes eventually won the job full time. He helped guide the program to a 6-1 start, but the Utes are 1-3 since and sit at 7-4 entering this week's regular-season finale against Colorado.
Rising emerged as Utah's full-time starter in 2021 during his third season with the program and quickly became a key leader. He has thrown for 5,572 yards, 46 touchdowns and 14 interceptions in 27 career appearances. He's also rushed for 12 touchdowns and 953 yards over his career.