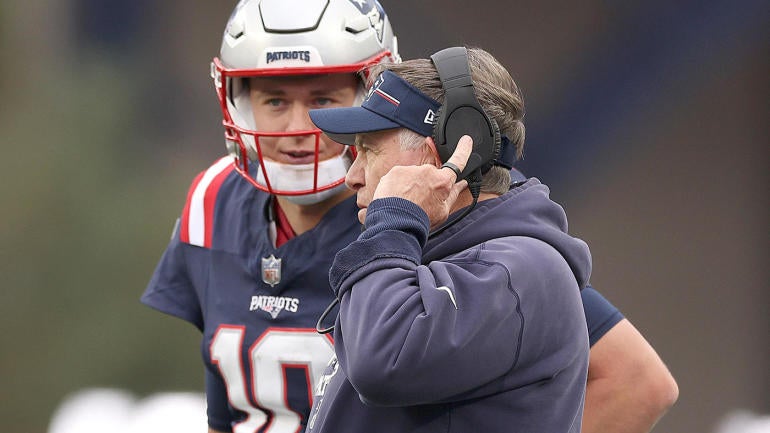 Getty Images
The Patriots have emerged from the Week 11 bye, but there is still mystery surrounding who'll be their starting quarterback when they take the field Sunday at MetLife Stadium against the New York Giants. Head coach Bill Belichick took to the podium on Tuesday and was asked about his situation under center, but, in typical Belichick fashion, he kept his cards close to the vest. 
"I've told all the players the same thing: Be ready to go," Belichick said about the Patriots quarterback situation. "Hopefully they will be."
When asked again if he's decided on a starting quarterback, Belichick said, "I've told everybody to be ready to go." He was pressed further with a retort that telling the players to be ready to go and making a decision at quarterback are different things, the head coach smirked and said, "I'll let you know on Sunday."
Mac Jones was benched for the final minutes of New England's Week 10 loss to the Colts in Germany and, at the time, it appeared like that could be the end for the former first-round pick. However, reporters in Foxborough noted that he did take first-team reps in practice last week, so the door may not be entirely closed on him keeping his job. 
If Jones is not the answer, the other options the Patriots have on the roster are Bailey Zappe (who came in after Jones was benched against Indy), Will Grier or Malik Cunningham (practice squad). Of course, allowing this quarterback battle to bleed into the week of practice does bring in the question of whether or not the player who ultimately wins the job will be fully ready to go after not seeing the bulk of the reps. 
Belichick was asked about that circumstance and said, "I want everybody to be prepared."
New England is 2-8 with Jones under center this season and the third-year quarterback has regressed in almost every significant statistical category. His completion percentage and passer rating are at career lows and is on pace to throw the most interceptions of his career as well, which has set the stage for a potential change.