NEW YORK — It's been more than 600 days since a team outside the Big East has kept it close against the UConn Huskies. 
A season ago, this team trounced every nonconference opponent, winning all its non-Big East games by double digits and an average of 24 points. After Adama Sanogo, Jordan Hawkins and Andre Jackson Jr. left school early, it was reasonable to assume things would be a bit more competitive as Dan Hurley's roster underwent some new implementations. 
Yeah, no. 
Connecticut's streak of cartoonish dominance has continued this season, as the No. 5 Huskies emerged again with a double-digit win Monday after beating 15th-ranked Texas 81-71 in the Empire Classic's title affair at Madison Square Garden. Through five games, UConn's average margin of victory is 27.4 points. 
It's official: There is no championship hangover.
We're past the point of predictability with these guys. If anything, UConn should be ashamed for its utter lack of compassion and stubbornness against leaning into even a smidge of drama. Where's the consideration for the everyday college basketball fan? This school simply refuses to keep things interesting in non-con play. 
"It's a hungry program," Hurley told CBS Sports. "There are players that maybe didn't play a starring role on last year's team that now have a chance to move into a face-of-the-program role. You got a guy like Cam Spencer, who's never played in the NCAA Tournament, who's absolutely desperate. The bar is so high at UConn. Storrs, Connecticut, doesn't really let you celebrate. They want to know what you're doing next."
In light of Monday's win, it's fair to say this blue-blood program was underrated heading into the season. Preseason No. 1 Kansas still holds that ranking and Purdue is a strong No. 2 with the reigning national player of the year (Zach Edey). Arizona is third in the AP Top 25 on account of winning at Duke, while Big East brethren/fourth-ranked Marquette has been higher in the polls than Connecticut since October. UConn is fifth, but I'm no longer convinced it belongs that low. The preseason wait-and-see from some (yours truly included) looks overly cautious.   
To that point, a reminder that Hurley always has a scoreboard clocking in his mind. The man is continually in search of slights and motivations; it's why he's become a great coach. To wit: After his presser Monday night, I walked with him back to UConn's locker room to capture a few additional quotes for this column. Before I could get my first question in, Hurley playfully piped up: "Did you rank us yet?"
See, I had UConn 13th in the preseason — perhaps as low as anyone. I put too much emphasis on the importance/departure of Sanogo, Hawkins and Jackson. Connecticut has a tremendous coaching staff and it's clear to see now how stocked the cupboard was. The Huskies again have the makeup to be one of the best rosters in the country. Though they're yet to play multiple ranked teams, Hurley's team looks the part of a top-five outfit and is yet to veer into a bad stretch of basketball.
UConn's also on the precipice of making history.
Connecticut has won 22 straight games by 10 points or more vs. out-of-league foes, putting the program two wins away from a distinct record. Per ESPN Stats & Information, the high-water mark for most consecutive double-digit nonconference wins is 23 by North Carolina from 2008-10. UConn's next two games are at home against Manhattan and New Hampshire, meaning this record will almost definitely be theirs in less than a week's time. 
It's a wrap. 
Masterly, what Hurley and his staff has done to keep Connecticut chugging. As if there was no offseason. As if this team is a continuation of the one that won a national championship with one of the most impressive, domineering runs in NCAA Tournament history. 
"It's been an unbelievable — from last nonconference season — these guys have been awesome," Hurley said. "We are unique with the way we play offense. … I just think the program's got so much confidence. You win a national championship, you step onto the court with a lot of belief you're supposed to win. The coaches, we're relentless. We're going to try to beat you by as many as we can beat you by."
Texas and Connecticut were short-handed Monday, the Longhorns without Kadin Shedrick (sore shoulders), who had 27 points and seven rebounds the day before vs. Louisville. UT also is yet to have big man Dylan Disu (left foot) play this season. UConn was missing a key piece itself, though. Even without freshman wing Stephon Castle, who recently had a minor knee procedure done, the Huskies looked like a complete team. Castle told ESPN he hopes to be able to return for UConn's massive road test Dec. 1 at No. 1 Kansas.
"Going into this weekend it was critical for us to get two (wins) here," Hurley said. "Just knowing you're to Kansas and you're going to be playing in Seattle (against Gonzaga). But we wanted these types of games. These games are going to be great prep to play Marquette, Creighton, two of the best teams in the country." 
Without Castle and even with preseason All-American Donovan Clingan scoring just seven points in 13 minutes, the Huskies set the tone and never trailed against Texas. Sophomore forward Alex Karaban had a team-high 20 points, and for as good as he was on Monday, the news of the night is clearly the emergence of Samson Johnson. The Togo-born big man had the best game of his college career: 15 points, eight rebounds. Johnson and combo guard Hassan Diarra came off the bench and had breakthrough production. Diarra provided eight points, six boards and two assists. The game's punctuation point was an alley-oop from Diarra to Johnson midway through the second half that was the flashy reminder from UConn to the rest of the country: We aren't going anywhere. 
"A whole different beast we'll be, just with Donovan and Samson at center because that's two different problems for teams," Karaban said.
The scary part, per Hurley: "We've got great potential to be much better than we are right now."
He's unquestionably right. UConn is not at full strength and didn't even have an outstanding game Monday. Yet it beat the 15th-ranked team on a semi-neutral floor by 10 at a 1.23 points per possession clip. It's yet to see greatness from the guy expected to be its greatest player (Clingan). The Huskies will take losses, but at this moment, it seems reasonable to expect this team to be better in the regular season than last season's club.
That's the mark of not just good coaching, but elite-level program-building. 
"The question about this team going into the year was the bench," Hurley said. "Obviously, if we get those types of performances from Hassan and Samson … we're going to have that depth. The great thing about this time is, Cam (Spencer) and Tristen (Newton) have bad shooting nights, we just have a lot of weapons, a lot of people who can beat you."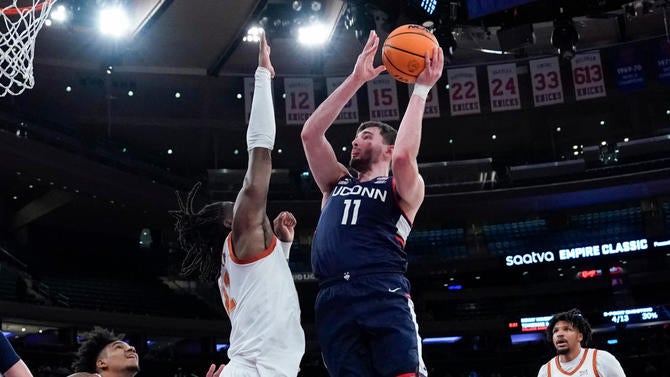 Afterward, Hurley could be seen chuckling at the podium. The guy always looking for improvement was left to semi-gripe about how his team only made seven 3-pointers when it could've been 11 or 12. 
"We're ready to go, man, when these games start," he said.
Ready to go, but also eager to close. This team has a finisher's mentality. Texas managed to find its poise and make a second half run late, getting UConn's lead to four points with five minutes remaining. Then Karaban went 3 for 3 on his next three shots, from the 4:52 to the 1:01 mark, a pair of them coming as the shot clock expired and extinguishing Texas' hopes for an upset bid. 
"We didn't get good on offense until Alex got here," Hurley said of the program's ascension, adding how his do-everything 4-man carries a "clutch gene" and is "a special player."
Karaban has always played ahead of schedule and is maybe the most important player in UConn's locker room. He's taking on his coach's mentality of expectations for himself and his school. UConn is a national title contender again for many reasons; Karaban won't be an overlooked one any longer. Monday night's Empire Classic trophy is the first of four this team is looking to win.
"Feeling a championship is something special and a little taste of what we want in the future with the Big East and a national championship," Karaban said Monday night. 
This team's not afraid to say out loud what the deal is here. Houston in April is a distant memory. Winning a second straight national title is the objective — no talking around it or pretending like it's not The Thing. It's really hard to repeat in this sport, but UConn's got the look and verve of a team capable of making that a real conversation.