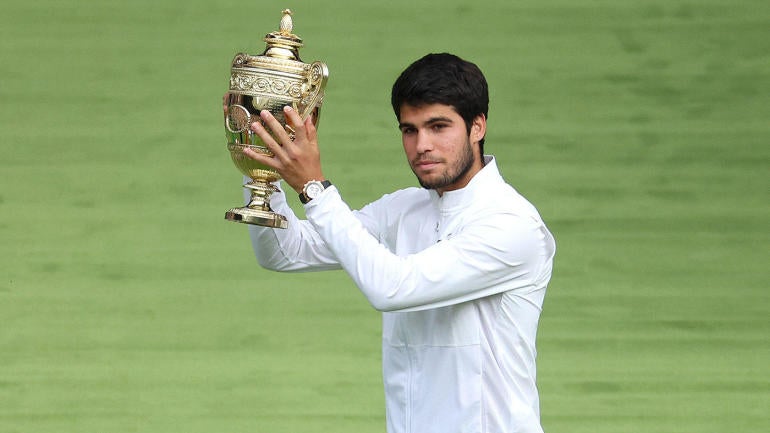 Getty Images
This is an article version of the CBS Sports HQ AM Newsletter, the ultimate guide to every day in sports. You can sign up to get it in your inbox every weekday morning here.
Good morning to everyone but especially to …
CARLOS ALCARAZ …
He stumbled then soared. He fell back to Earth then fought. He came back then conquered.
Alcaraz is the king of grass after dethroning Novak Djokovic 1-6, 7-6 (8-6), 6-1, 3-6, 6-4 in glorious fashion to win Wimbledon in an epic final. It's the 20-year-old Spaniard's second career Grand Slam title following last year's US Open, in which Djokovic did not play.
After he was overwhelmed in the first set, Alcaraz went up an early break in the second, though he gave it back shortly thereafter. Djokovic won the first three points of the tiebreak, but Alcaraz won five of the next six and later took the set with a strong backhand past a charging Djokovic.
Alcaraz took the third set, but Djokovic — after leaving the court briefly — responded with a tidy fourth set.
In the fifth set, Alcaraz got another early break and held serve the rest of the way, collapsing to the court with his head in his hands upon winning championship point.
The match, which lasted 4:42, was the third-longest final in Wimbledon history.
It may not seem like a shocker that the world's No. 1 player claimed Wimbledon but consider …
Djokovic entered having won each of the last four Wimbledon men's titles and 34 straight Wimbledon matches overall.
Djokovic had won a record 45 consecutive matches on Centre Court at the All-England Club. His last loss there was in 2013 to Andy Murray.
Djokovic had won 15 consecutive tiebreaks at majors, also a record. If Alcaraz hadn't somehow crawled out of an 0-3 hole in that second-set tiebreak, we're probably talking about Djokovic as champion again.
Alcaraz is the first player not named Djokovic, Murray, Federer or Nadal to win Wimbledon since Lleyton Hewitt in 2002. (Alcaraz hadn't even been born yet.)
Instead, we're talking about the emerging force that is Carlos Alcaraz. The speed, the power, the competitive spirit, the composure beyond his years. He's the third-youngest Wimbledon men's champion in the Open Era behind Boris Becker and Bjorn Borg.
Time will tell if it's a true passing of the torch, but considering this was only Alcaraz's fourth career grass tournament, it's a marvelous achievement. Djokovic himself admitted post-match that he knew he'd have trouble with Alcaraz on clay and maybe hard courts. Now he — and the rest of the world — will add grass to the list. 
AND ALSO TO MARKÉTA VONDROUŠOVÁ …
She made plenty of history on the women's side. Markéta Vondroušová is the first unseeded woman to capture the ladies singles championship with a 6-4, 6-4 win over Ons Jabeur.
Vondroušová converted six of seven break opportunities, taking advantage of Jabeur's unsteady serve.
Vondroušová really came out of nowhere: Her only other WTA title came in 2017 at her second WTA event when she was just 17 years old. She had never made it past the second round at Wimbledon.
Jabeur, meanwhile, fell in the Wimbledon final for the second consecutive year. She's still looking for her first slam.
Honorable mentions
Not-so-honorable mentions

🏈 DeAndre Hopkins to sign with Titans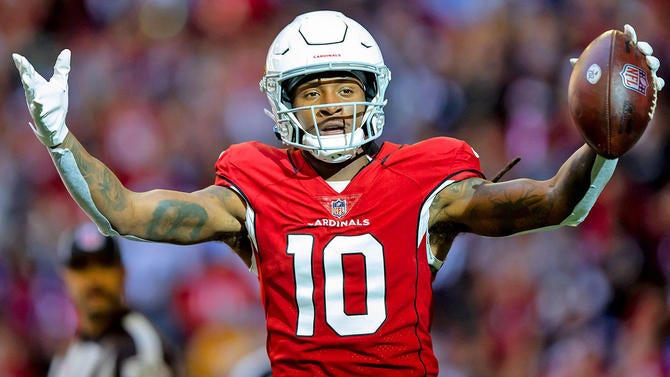 After a month-and-a-half of free agency, DeAndre Hopkins has a new home: The five-time Pro Bowl wide receiver plans to sign with the Titans.
The deal is reportedly for two years and $26 million. Hopkins, 31, was released by the Cardinals in late May and had strong interest from the Titans and Patriots, among others.
Hopkins played just nine games last year but averaged 7.1 receptions (fourth in NFL) and 79.7 receiving yards (10th in NFL).
Hopkins has missed 15 of 34 games over the past two seasons due to injuries and suspension.
Per SportsLine projections, Hopkins increases Tennessee's playoff chances from 31.2% to 37.7%.
Hopkins is a massive boost to an offense that includes quarterback Ryan Tannehill and running back Derrick Henry but lacks proven weapons in the passing game. CBS Sports' Jared Dubin says Hopkins will immediately be Tannehill's top target, and our Jamey Eisenberg broke down the fantasy impact of his signing:
Eisenberg: "It's obviously not the most ideal situation for him. Kyler Murray was a good fantasy quarterback and obviously the numbers were great for Hopkins the last three seasons in Arizona when he's been healthy and on the field and not suspended. The Titans' passing attack is not the most dynamic. … He'll still be a top-24 receiver, but a No. 2 guy; he no longer will be ranked as a No. 1 receiver for me. So not somebody I'm drafting until probably Round 5."
🏌 Rory McIlroy wins thrilling Scottish Open as The Open looms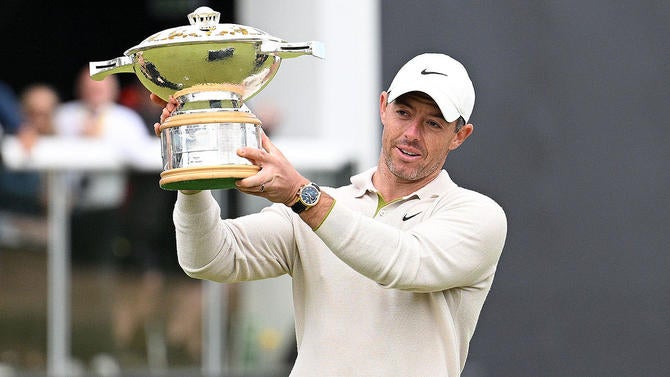 Rory McIlroy just pulled off one of the most magical finishes of his career. Now, he hopes it'll carry over in six days — about 185 miles South at a place he's won before. McIlroy made dramatic birdies on both 17 and 18 to beat home-country crowd favorite Robert MacIntyre by a stroke while soaring to the top of the leaderboard to win the Scottish Open.
Next up: The Open Championship.
After a wonderful birdie on the 18th to make him the clubhouse leader at 14 under, MacIntyre could only watch as McIlroy went to work. Rory hit a dart on the 17th and made the birdie putt to tie for the lead.
On the 18th, McIlroy ripped a 205-yard 2-iron through the wind to about 10 feet and sunk the putt for the 24th PGA Tour triumph of his sterling career and second this season.
While it seems to be perfect preparation for The Open Championship, only one player has captured both events in the same year: Phil Mickelson in 2013. Still, McIlroy's most recent major victory, the 2014 Open Championship, was at the same place it's being held this year (Royal Liverpool), so there are plenty of reasons for him to be confident as he returns, writes CBS Sports' Patrick McDonald.
Starting today, we'll have coverage of all angles leading up to The Open Championship right here.
🏀 NBA Summer League winners & losers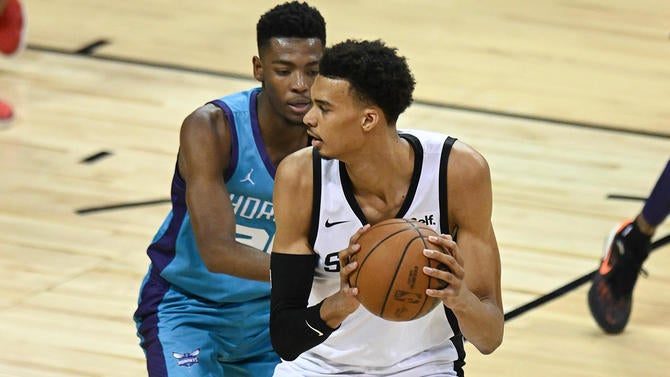 The NBA Summer League is a funny thing. One or two good performances, and a player is suddenly destined to be a star; one or two bad performances, and they're destined to be a bust. It's imperative to keep things in perspective. Still, you only get one chance to make a first impression, and CBS Sports' Colin Ward-Henninger handed out his Summer League winners & losers. Here's how the top picks fared:
Victor Wembanyama (1), Spurs — WINNER — "Wembanyama showed us everything that makes him one of the best prospects in NBA history — the shot-blocking, shot-making and ability to impact games in seemingly every way."
Brandon Miller (2), Hornets — LOSER — "Miller did finish the summer on a high note, however, putting up 26 points and six rebounds on 8-for-15 shooting against the Blazers before the Hornets shut him down."
Scoot Henderson (3), Trail Blazers and Amen Thompson (4), Rockets — LOSERS — Injured.
There's another do-it-all 7-footer not named Wembanyama who also earned winner status.
Ward-Henninger: "Winner: Chet Holmgren — Not only did last year's No. 2 overall pick look healthy and spry (he said that his foot "feels great," and that if he didn't have the scar, he wouldn't even remember that he had surgery), but he also showcased his intriguing, multi-faceted skill set. … He'll immediately be a borderline-elite rim protector who can finish at the rim and facilitate from the top of the key."
I can't wait to watch the Thunder this season.
📺 What we're watching Monday 
🏀 Rockets vs. Cavaliers, 9 p.m. ET on ESPN
⚾ Twins at Mariners, 9:40 p.m. ET on FS1
Our Latest Tennis Stories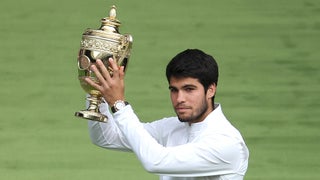 Watch Now: