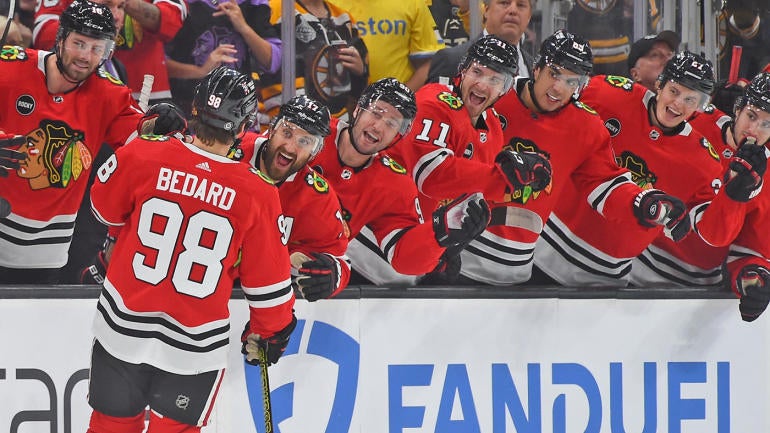 Getty Images
It didn't take Chicago Blackhawks rookie phenom Connor Bedard too long find the back of the net. In just his second career game, Bedard scored his first career goal during the opening period of Wednesday's game against the Boston Bruins.
Bedard took an initial shot that Bruins' goaltender Linus Ullmark was able to stop, and puck ended up behind the Bruins' net. However, Bedard kept working on the play and was able to record the wraparound goal as he beat Ullmark to the post.
Bedard also registered a point in Tuesday's contest when he assisted on a goal from Ryan Donato. The Blackhawks rookie was able to keep the puck in the offensive zone and earned a secondary assist on the play.
With a point in Tuesday's contest, Bedard became the fifth-youngest active player to record a point in his NHL debut at 18 years, 85 days. Florida Panthers center Aleksander Barkov is the youngest to accomplish that feat when he did it at 18 years, 31 days on Oct. 3, 2013.
Bedard had gotten his NHL career off to a strong start after he tallied five points (one goals & four assists) in four preseason games for Chicago. 
The expectations are sky high for Bedard, who was taken with the No. 1 pick in the 2023 NHL Draft. He has drawn comparisons to the likes of Penguins star Sidney Crosby and Edmonton Oilers center Connor McDavid.
The former Western Hockey League star forward registered a mind-boggling 143 points (71 goals and 72 assists) and won the Bob Clarke Trophy as the WHL's leading scorer. In doing so, Bedard led the league in scoring and became the first WHL player to top the 140-point mark since 1995-96. 
The star center also was a force throughout the WHL playoffs as he recorded 10 goals and 10 assists in just seven games after the Pats were eliminated in the opening round.