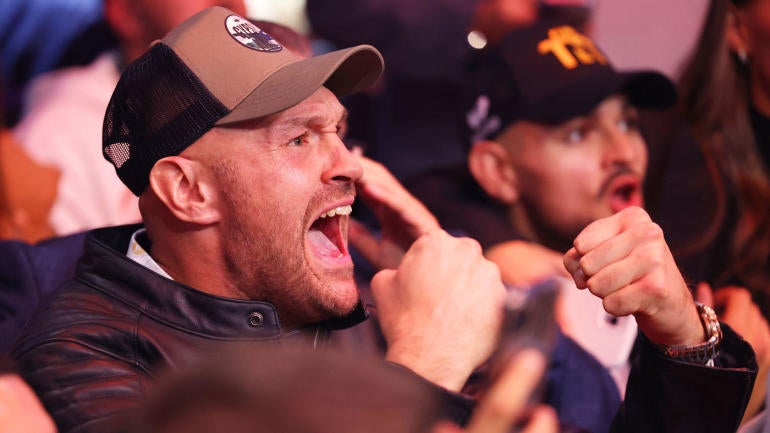 Getty Images
Tyson Fury is not rattled by seeing his namesake in his opponent's corner on Saturday. Fury is simply honored to share the ring with Mike Tyson, the latter of whom is working with Francis Ngannou ahead of their crossover clash in Saudi Arabia.
Fury vs. Ngannou — dubbed "The Battle of the Baddest" — pits the reigning WBC heavyweight champion against the lineal UFC heavyweight champion in a boxing ring. Ngannou has worked periodically with "Iron" Mike ahead of Saturday's fight. Some wondered if Fury would be uncomfortable with Tyson helping his opponent. After all, Fury was named after the legendary fighter for his relentless fighting spirit as a premature baby. Fury is simply happy to have Tyson's unique aura in Riyadh.
"It's very good for Mike to be a part of this promotion. He's done a good job promoting Francis," Fury told CBS Sports. "What a pleasure to have a living legend because that's what I believe Mike Tyson is.
"To have a living legend in the same boxing ring as me on that night is fantastic. And the fact that I'm named after the guy who then became world heavyweight champion himself and then the two guys meet, that's fantastic. I'm very, very happy."
Check out the full interview with Tyson Fury below.
Fury (33-0-1) is widely expected to cruise against Ngannou, a world-class mixed martial artist making his boxing debut. Fury already has a second bout planned this year. Fury and Oleksandr Usyk are expected to fight on Dec. 23 to crown the undisputed heavyweight champion. A chance injury against Ngannou could jeopardize the Usyk fight eight weeks later, but Fury welcomes the risk.
"What will be will be…" Fury said. "At this present moment in my time in life, I'm only interested in Ngannou. If I get a massive cut 27 inches across the eyebrow and I get an injured right hand and two broken ribs in victory, then that's what I'll do. I'm not too concerned about Usyk at all. All my focus and energy is going into fighting Francis and I've given it an unbelievable preparation."