The NHL standings are shaking out differently than expected, so it's time to determine which teams' starts are legit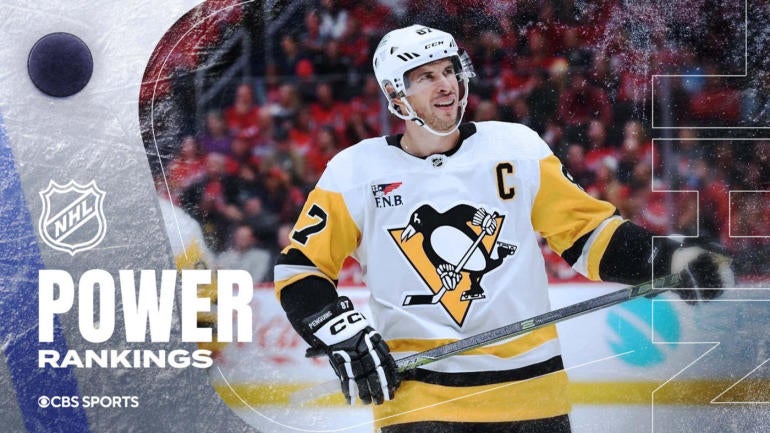 Kim O'Reilly, CBS Sports
Last night, millions of children across the country put on costumes and went out to get free candy and future cavities. As I was putting together this week's NHL Power Rankings, I felt like a number of the teams I was trying to place were also wearing masks.
There are a number of teams currently occupying playoff spots that seem to have some issues under the hood. Are the Vancouver Canucks and Tampa Bay Lightning actually contenders in their respective conferences, or are they just masquerading as legitimate threats? If they are masquerading, are they capable of faking it until they make it?
Then, there are teams like the Pittsburgh Penguins and Edmonton Oilers. These preseason Stanley Cup teams appear to have chosen "NHL basement dweller" as their costume if you simply look at the standings. The question is whether they are, in fact, wearing a disguise. That is what I'll try to determine today.
In this week's power rankings, let's hop in the Mystery Machine and pull some masks off a few costumes. Here are the updated NHL Power Rankings.
All expected goals and goals saved above average data courtesy of Natural Stat Trick.
Biggest Movers
| Rk | Teams |   | Chg | Rcrd |
| --- | --- | --- | --- | --- |
| 1 | Golden Knights | The defending champs are off to a blistering start, and while some of the underlying numbers are far from perfect, it's hard to argue with the results. Vegas has yet to lose a game in regulation, the goaltending has been excellent, and the team is getting contributions from everyone. Six different skaters have three goals. Five more have two. Make no mistake, this is a contender again. Verdict: Real | — | 9-0-1 |
| 2 | Bruins | With some people sleeping on the Bruins after some significant losses in the offseason, I picked them to be a solid playoff team again. I thought I was pretty high on them … but I wasn't high enough apparently. Boston has picked up 17 of a possible 18 points, and the best part is that the five-on-five metrics haven't tumbled without Patrice Bergeron. Verdict: Real | 1 | 8-0-1 |
| 3 | Stars | Dallas is off to a strong start, and it's not due to some early-season puck luck. The Stars have arguably been the best defensive team in the league through these first few weeks. Their 12.61 expected goals against at five-on-five ranks first, as does their expected goals share of 58.4%. They've managed to do all this even without Jason Robertson getting hot in the scoring department. The goal in Dallas is a Stanley Cup. Verdict: Real | 1 | 6-1-1 |
| 4 | Rangers | This is the first team that's somewhat of a tough call. The Rangers have won five straight games, and they have allowed just seven goals in that span. It has been an impressive run, but New York's process has left something to be desired. The Rangers have controlled just 42.7% of the expected goals at five-on-five throughout this streak. They've relied on exceptional goaltending and strong power play to get wins, and that might be concerning if I didn't think they were built to keep that rolling. Verdict: Real | 3 | 7-2-0 |
| 5 | Avalanche | I will forego the preamble on this one. The Avalanche are very much for real again this season. Mikko Rantanen is proving his 105-point season in 2022-23 was no fluke, Cale Makar is playing like he wants another Norris Trophy, and Nathan MacKinnon is Nathan MacKinnon. Despite underperforming their expected goals numbers at even strength, Colorado still looks like a juggernaut. Verdict: Real | 3 | 7-2-0 |
| 6 | Devils | It hasn't been a perfect start for the Devils, but it looks like they are starting to get on the right track. It helps that Jack Hughes is averaging more than two points per game and Tyler Toffoli is on pace for 71 goals. Those two will cool off to some extent, but I would expect players like Timo Meier and Dawson Mercer to get going after ice cold starts. New Jersey is still very much a contender. Verdict: Real | — | 5-2-1 |
| 7 | Kings | On paper, the Kings are a very good team and a dark horse Stanley Cup contender, at least as far as the defensemen and forwards are concerned. That said, I also have to take in consideration the goaltending, which is pretty important. Thus far, Los Angeles 27th in team save percentage, and I don't think that's a fluke given the personnel. For now, I'll give an otherwise talented Kings squad the benefit of the doubt, but the goaltending must improve. Verdict: Real | 3 | 5-2-2 |
| 8 | Hurricanes | The usually stingy Hurricanes have been a little more leaky than usual, but they have started to patch those holes in recent games. I'm not sure Jesperi Kotkaniemi is an 82-point player, nor am I sure Teuvo Teravainen will be a 64-goal scorer. Those might be disguises, but that is balanced out by the fact that Sebastian Aho has one goal and Andrei Svechnikov just returned from injury. Expect the Canes to stay in the top 10 most of the season. Verdict: Real | 1 | 6-4-0 |
| 9 | Maple Leafs | The "Core Four" are trying to make the most of what might be their last season together. William Nylander, Auston Matthews and John Tavares are all averaging at least a point per game. Mitch Marner is right behind them with eight points in nine games. When those four are rolling, Toronto is absolutely one of the best teams in the NHL. The Leafs are very much for real, at least for 73 more games. Verdict: Real | 4 | 5-3-1 |
| 10 | Red Wings | I want this start for the Red Wings to be the real deal. They have some fun young talent, and I would like to see some variety at the top of the Pacific. However, Detroit rode a red-hot power play to a 5-1-0 start. Since then, the power play has cooled off a bit, and the even strength scoring hasn't been there. The Red Wings should be better than they were last season, but I'm not sure they are a top-three team in the Atlantic. Verdict: Costume | 2 | 6-3-1 |
| 11 | Canucks | Rick Tocchet has turned around the Canucks. They are 6-2-1 and second in the Pacific Division. The second sentence is a fact, but I'm not so sure about the first one. Vancouver's expected goals share at five-on-five is 44.2%, which ranks 28th. Despite ranking 23rd in high-danger chances (97), their shooting percentage is first at 14.2%. I just don't know that the Canucks can keep this up for 82 games. Verdict: Costume | 7 | 6-2-1 |
| 12 | Islanders | The 2023-24 Islanders are very similar to last year's team. Their offense isn't going to set the world on fire, but their play at five-on-five will give Ilya Sorokin more than enough help to pick up wins and remain in the middle of the standings all season. As long as their power play remains somewhat competent, the Isles will be in the Eastern Conference wild-card race this year. Verdict: Real | 4 | 4-2-2 |
| 13 | Lightning | The Bolts have been picking up points over the last couple weeks, and it seems like they have bounced back after a 1-2-1 start. However, look below the surface, and it becomes clear there are still some glaring problems. Tampa has shifted its defensive philosophy to more of a zone approach, and the adjustment period has been rough. The Lightning are 30th in expected goals allowed at five-on-five. That's less than ideal with Andrei Vasilevskiy still on the mend after back surgery. Tampa still has work to do. Verdict: Costume | 1 | 4-2-3 |
| 14 | Panthers | I will say I don't think Sam Reinhart is an 82-goal scorer. That part of the Panthers might be a disguise, but while he is set to cool off, others are poised to heat up. More specifically, Matthew Tkachuk has scored on 2.9% of his shots, and I very seriously doubt that keeps up. Plus, Aaron Ekblad and Brandon Montour recently returned to practice. Florida is still in good position to land a playoff spot. Verdict: Real | 5 | 4-3-1 |
| 15 | Jets | The Jets are in the middle of the pack, and that is what you would expect from a middle-of-the-pack team. Winnipeg is actually pretty solid when it comes to preventing dangerous scoring chances, but it is also rather pedestrian at creating chances of its own. I'm not sure the Jets are capable of becoming a contender in the West this season, but it would be easy to see them finishing as the 15th best team in the league. Verdict: Real | 6 | 4-3-2 |
| 16 | Coyotes | The Coyotes look like an actual NHL team this season. Not only that, they look like a team that could be playing important games down the stretch. The question is whether they can keep this up — or get even better. There is a lot to like about Arizona this year, from Clayton Keller to Sean Durzi to an underrated goaltending tandem. That said, I'm not sure I can fully buy-in yet. The Yotes have beaten up on some bad teams and struggled against better competition. I'll need to see more before I really like their playoff chances. Verdict: Costume | 1 | 4-4-1 |
| 17 | Flyers | Philadelphia is a tough team to figure out because preseason expectations were so low, but the team has been a pleasant surprise through the first few weeks. Young players have taken a step forward and are complementing veterans like Sean Couturier quite well. Plus, the underlying numbers are actually decent. I think this team will eventually start to slide, but John Torotorella deserves some credit for the way this team has performed early. Verdict: Costume | 3 | 4-5-1 |
| 18 | Senators | The Senators have the potential to take the next step in 2023-24, but there are a couple obvious red flags. For starters, they are giving up scoring chances at a relatively high rate. If they were getting decent goaltending, that might be less of a problem. The issue is that Joonas Korpisalo has not performed as well as Ottawa hoped when the team signed him as a free agent in the offseason. Unfortunately for the Sens, these issues look like they might keep them on the wrong side of the playoff bubble. Verdict: Real | 5 | 4-4-0 |
| 19 | Wild | Last week, I talked about some early red flags from the Wild. Well, those have been even more apparent recently. Minnesota has dropped three straight games, and the five-on-five numbers have not been pretty. The Wild are a bottom-10 team in generating expected goals and allowing expected goals. That isn't where we're used to seeing this team, but it makes me think that a subpar start might not be a mirage. Verdict: Real | 8 | 3-4-2 |
| 20 | Oilers | Things have turned sour in Edmonton relatively quickly, but a win in the Heritage Classic did inject some positive vibes into the team. As bad as things have looked on the scoreboard for the Oilers, I highly doubt the losses will continue to pile up. Edmonton ranks first in xGF/60 at five-on-five (3.3) and 11th in xGA/60 at five-on-five (2.46). If the Oilers can get a few more saves, they'll shoot back up the standings. Verdict: Costume | 3 | 2-5-1 |
| 21 | Predators | The Predators went from being one of the worst teams at five-on-five last season to being one of the very best through nine games this season. Yet, the results have been very similar. To some degree, Nashville has gotten unlucky in the finishing department, but the lineup also lacks some scoring touch. As well as the Preds have played at five-on-five, their lack of high-end offensive talent might hold them back this year. Verdict: Real | 1 | 4-5-0 |
| 22 | Penguins | The Penguins almost make the Oilers look lucky. Pittsburgh is 3-6-0 through nine games, but that record should be much better. The Pens are one of the best five-on-five teams in the league, but they have gotten off to a poor start in terms of finishing and goaltending. Tristan Jarry has been up-and-down in goal, Rickard Rakell has yet to score despite 24 shots, and Jake Guentzel is shooting just 6.3%. I have to believe the Penguins are not what their record says they are. Verdict: Costume | 8 | 3-6-0 |
| 23 | Ducks | Greg Cronin is no Gordon Bombay, but he still has the Ducks flying high these days. Anaheim has four consecutive wins, and the young players are the ones driving the bus. It's been a fun start for this team, and there will be plenty more to come down the road, but this run may not be sustainable. Anaheim has controlled just 47.4% of the expected goals at five-on-five this season, and the offense has not been as strong as the scoreboard might lead you to believe. There is some regression in store for this young group. Verdict: Costume | 5 | 6-4-0 |
| 24 | Canadiens | As we sit here today, the Canadiens are third in the vaunted Atlantic Division. Still, they sit at No. 24 in the prestigious Power Rankings. You might be able to see where this is headed. Montreal has been relatively shaky on defense, and yet the goalie duo of Jake Allen and Sam Montembeault are the top two in goals saved above average at five-on-five. Forgive me if I'm not convinced this is a winning formula. Verdict: Costume | 3 | 5-2-2 |
| 25 | Sabres | This is supposed to be the season the Sabres take another step toward contending in the Atlantic Division, but instead they have sputtered out of the gate. The good news is three of their five losses have been by a single goal. On top of that, the Buffalo power play has had a miserable time so far. It has converted on just 10.7% of its opportunities, and the Sabres have enough talent that I think they'll sort it out. It's still way too early to rule out a possible playoff berth for the Sabres. Verdict: Costume | 1 | 5-5-0 |
| 26 | Capitals | Washington has won three straight games, which has provided some positivity after a brutal start. The biggest issue for the Capitals has been a complete lack of depth scoring. Thus far, 22 skaters have played in a game for the Caps, and only four of them have multiple goals. Some of that has been due to poor shooting luck, for sure, but it also seems like this team's older core has taken a tangible step backward. Verdict: Real | 5 | 4-3-1 |
| 27 | Blues | The fact that the Blues aren't playing well isn't a shock. This team has some clear flaws. I just didn't think St. Louis would be unable to create any offense at five-on-five. Their 2.0 xG/60 at five-on-five is dead last in the NHL, behind even the San Jose Sharks. That is incomprehensibly bad, and it also means this lackluster start is not a costume. Verdict: Real | 4 | 3-4-1 |
| 28 | Kraken | The Kraken got some bounces last season, and they aren't getting as many bounces this season, but explaining their poor start isn't quite that simple. When it comes to the rate it generates and surrenders expected goals, Seattle is anywhere from average to below average. Combine that with a lack of firepower at the top of the lineup and a pedestrian goaltending duo, and these struggles might just continue. Verdict: Real | 2 | 3-5-2 |
| 29 | Flames | This marks the second consecutive season that I have been duped by the Flames. The underlying numbers don't suggest this is a bad team, and neither does the roster, but something is still very wrong with Calgary. It's the exact same story as last season. I just don't think this is a bottom-five NHL team. At some point, the Flames' 31st-ranked shooting percentage (6.76%) has to regress to the mean, right? Verdict: Costume | 4 | 2-7-1 |
| 30 | Blackhawks | Connor Bedard is simply electric. That is very real. The rest of the team around him needs some work — quite a bit of work. Chicago ranks among the worst teams in the league in goals for, goals against, and expected goals share. Other than that, things are great. The Hawks are continuing their rebuild, so this poor start was to be expected. Verdict: Real | — | 3-6-0 |
| 31 | Blue Jackets | Even though they improved their blue line this offseason, it was clear the Blue Jackets would probably be nowhere near a playoff spot again. Through nine games, that has been the case. Columbus has been getting beaten pretty soundly at five-on-five, and Johnny Gaudreau has yet to score a goal. This bad start is very real, but at least Adam Fantilli is for real too. Verdict: Real | 2 | 3-4-2 |
| 32 | Sharks | The Sharks have one point in nine games, and I'm surprised they even have that point with how they've played so far. San Jose is last in goal differential (-26), five-on-five expected goals share (40.5%) and shooting percentage (4.07%). As ugly as it may be, this start is not a disguise. Verdict: Real | — | 0-8-1 |
Our Latest NHL Stories