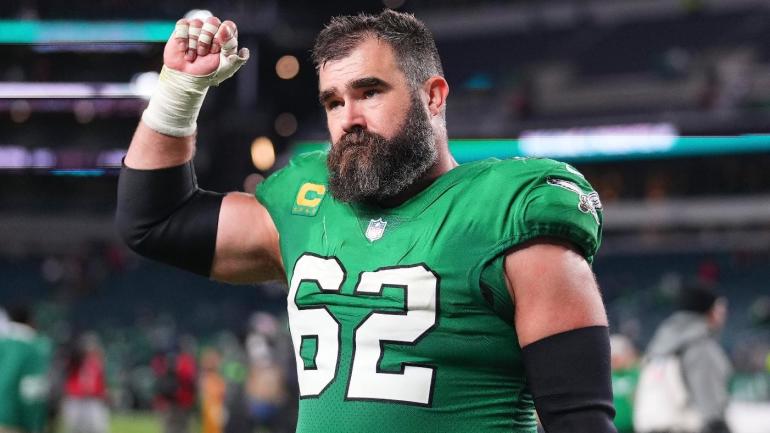 Getty Images
Jason Kelce has accomplished quite a bit in his NFL career. The Philadelphia Eagles center has won a Super Bowl, earned first-team All-Pro honors five times and will likely be inducted into the Pro Football Hall of Fame. On Tuesday, he earned a new and unexpected accolade when People named him one of its "Sexiest Men Alive."
People released a look at six of the honorees, and Kelce was in the mix with other names like Pedro Pascal, Usher, Jamie Foxx and Timothee Chalamet. That is decent company when it comes to looks, and Kelce will be able to hold it over the head of his brother, Travis.
Kelce reacted to the news on Twitter, saying that "beauty is in the eye of the beholder."
He then poked fun at the announcement in a radio interview with WIP — "I'm not even the sexiest man in my own family, let alone sexiest man alive."
Offensive linemen aren't often highlighted for their beauty, so perhaps Kelce can be somewhat of a trailblazer for the position in that regard. Maybe Penei Sewell or Jordan Mailata can crack the list in 2024?
While Jason Kelce is one of the Sexiest Men Alive in general, Travis wasn't left out entirely. The younger Kelce brother topped the list of Sexiest Swifties of the Year. Travis Kelce may have had the inside track considering his relationship with Taylor Swift, but he also beat out celebrities like Channing Tatum, Taylor Lautner, and Miles Teller.
Now, a Super Bowl would really only be a cherry on top after such a high honor. Considering the Eagles and Kansas City Chiefs are a combined 15-3 on the season, a Super Bowl rematch might be on the way.