What is better than one Hart Trophy? Almost three dozen Hart Trophies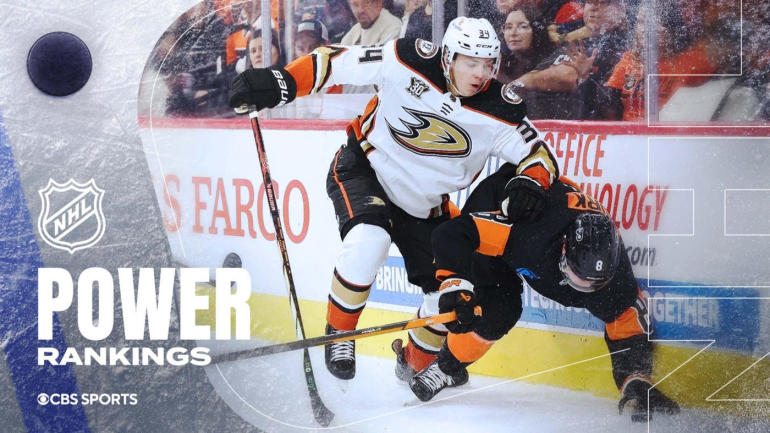 Kim O'Reilly, CBS Sports
One month into the NHL season means it's time for a slew of articles about early awards predictions, but what is better than one Hart Trophy winner? The correct answer is 31 Hart Trophy winners, and that is what we're going to do in this week's NHL Power Rankings as we select an early MVP for almost every team.
For the most part, there has been at least one bright spot on every team through the first 10-12 games. When it comes to juggernauts like the New Jersey Devils, New York Rangers and Dallas Stars, it won't be surprising to see some of the usual suspects garnering early MVP honors. The reason those teams are off to hot starts is because their best players are playing at a high level.
On the other hand, there have been some surprises in the first month. Take the Anaheim Ducks, for example. They have been buoyed by a collection of young players who have continued their development at the NHL level, and there is a shocking number of MVP candidates in Anaheim. The Calgary Flames, Edmonton Oilers and San Jose Sharks aren't so lucky.
Let's dive into the updated NHL Power Rankings, in which we highlight every team's MVP after one month of hockey.
Biggest Movers
| Rk | Teams |   | Chg | Rcrd |
| --- | --- | --- | --- | --- |
| 1 | Golden Knights | William Karlsson | I promise this list won't just be the leading scorer on every team, but for the Golden Knights, it really is that simple. Wild Bill already has six goals and 15 points in 13 games, and his underlying numbers are even better. With Karlsson on the ice at five-on-five, Vegas is outscoring opponents 13-4. Karlsson has been a force for the defending champs so far. | — | 11-1-1 |
| 2 | Bruins | Jeremy Swayman | Are two different Bruins goaltenders going to win the Vezina Trophy in back-to-back years? It kind of seems like it right now. Swayman has been phenomenal, and he's posted 9.11 goals saved above average in just six games. On top of that, his high-danger save percentage is a sparkling .912. If he keeps playing this way, Boston might want to give the former Maine Black Bear a few extra starts. | — | 10-1-1 |
| 3 | Rangers | Artemi Panarin | The man shaves some follicles off his head in the offseason, and he is back to being a truly elite playmaker. Panarin is off to an incendiary start with 20 points in 12 games, which is also a 136-point pace over 82 games. Panarin has been particularly valuable early on because he is the only Ranger who has been able to do some damage at five-on-five. His nine points in those situations are four more than that of his next closest teammate. | 1 | 9-2-1 |
| 4 | Stars | Miro Heiskanen | He probably won't have the traditional counting stats to win the Norris Trophy, but Heiskanen should be a very real contender for the award. In his over 200 minutes at five-on-five, the Stars have generated 64.0% of the expected goals and 62.5% of the actual goals. Dallas just continues to smash opponents with Heiskanen in the game, and that won't change anytime in the next six to eight years, at least. | 1 | 7-3-1 |
| 5 | Avalanche | Bowen Byram | Not only has Byram played more minutes at five-on-five than any member of the Avalanche, but he has been spectacular in those minutes as well. Byram has a five-on-five expected goals share of 61.5%, and he is one of the few Avs with a positive goal differential at even strength. The point production isn't quite there for Byram yet, but it will come if he keeps playing like this. The fact that Colorado has Byram, Cale Makar and Devon Toews on the blue line is proof that life is not fair. | — | 8-3-0 |
| 6 | Devils | Jack Hughes | Hughes finished eighth in Hart Trophy voting last season, and prior to his injury, he was on a mission to finish much higher than that in 2024. Hughes has become one of the best playmakers in the NHL, and he has already piled up 20 points in 10 games. Hughes just seems to keep getting better and better, which only makes his upper-body injury that much more of a bummer. Luckily for New Jersey, it has the depth to survive his absence for a while. | — | 7-4-1 |
| 7 | Kings | Phillip Danault | I think Danault is an underrated player on a very good hockey team, so I'll give him some shine here. Danault doesn't put up gaudy point totals, but he is still incredibly valuable to the Kings as an excellent two-way center, and the numbers show that this season. Los Angeles has dominated scoring chances and expected goals with Danault in the game, and he has found some chemistry with linemates Trevor Moore and Arthur Kaliyev. Those three have been a wrecking crew on the forecheck so far. | — | 7-2-2 |
| 8 | Canucks | Thatcher Demko | There are plenty of candidates in Vancouver (see also: Elias Pettersson, Quinn Hughes), and while you can poke holes in the team's hot start, there are no holes to be found in Demko's game right now. Through his first nine games, Demko leads the NHL in goals saved above average with 11.78, and he has allowed just three goals on 85 high-danger shots against. He has backstopped the Canucks to a surprisingly good start in 2023-24. | 3 | 9-2-1 |
| 9 | Hurricanes | Seth Jarvis | Both Sebastian Aho and Andrei Svechnikov have dealt with injuries in the early portion of the season, but several Hurricanes have stepped up in their place. One of them is Jarvis, who seems poised for a true breakout season. The No. 13 overall pick in 2020, Jarvis already has 10 points and leads Carolina in expected goals with 4.75. If Jarvis does take the next step this year, that only increases the Canes' profile as a Stanley Cup contender. | 1 | 8-5-0 |
| 10 | Maple Leafs | Auston Matthews | He is averaging over a goal per game. There is no other answer here. Matthews has already found the back of the net 13 times, and he has three hat tricks. That is just silly, and the fact that his shooting percentage is just 22.8% is also pretty wild. That's high, but it's not as high as I would expect from someone who started the season with six goals in two games. Matthews is an alien when it comes to his release, and he is absolutely torturing goalies with it this season. | 1 | 6-4-2 |
| 11 | Islanders | Noah Dobson | Dobson is already putting together another strong season with the Islanders, and he is quickly becoming one of the better young defensemen in the league. In terms of point totals, Dobson has been generating some offense for the Isles with four goals and seven assists in 11 games. On top of that, New York has an 12-6 scoring edge with Dobson on the ice at five-on-five. | 1 | 5-3-3 |
| 12 | Ducks | Pavel Mintyukov | I am already cooking up the hot take that Mintyukov deserved the Calder Trophy over Connor Bedard. It's not quite fully baked yet, and it is still very early, but Mintyukov has been exceptional for the Ducks so far. He has eight points in 12 games, and Anaheim has controlled just shy of 50.9% of the expected goals with him on the ice. The Ducks have quickly become must-watch television, and Mintyukov's play on the blue line is a huge reason why. | 11 | 7-5-0 |
| 13 | Panthers | Aleksander Barkov | Barkov is a perennial Selke Trophy candidate, and by the looks of it, he will get serious consideration for the award again this season. The Panthers are allowing just 2.11 xGA/60 with Barkov on the ice at five-on-five, and they have a 10-2 edge on the scoreboard. Add in Barkov's 10 points in 10 games, and he is really driving a Florida team that has started to warm up over the last couple weeks. | 1 | 6-4-1 |
| 14 | Lightning | Nikita Kucherov | While Andrei Vasilevskiy remains out, the Lightning may have to outscore their flaws, and Kucherov is just the man for that job. Kucherov remains one of the most dynamic offensive weapons in the NHL, especially among wingers. He has already posted 22 points in 13 games and remains absolutely lethal on the power play. While some of his other teammates got off to slow-ish starts, Kucherov has been firing on all cylinders since opening night. | 1 | 6-3-4 |
| 15 | Red Wings | Alex DeBrincat | Steve Yzerman went out and got his guy in the offseason, and DeBrincat has been exactly what this Red Wings lineup needed. The Michigan native has been the perfect linemate for Dylan Larkin, who uses his exceptional speed and vision to set up DeBrincat, who has thrived in Detroit. DeBrincat already has nine goals on the season, and the Wings have owned 76.5% of the goals with him in the game at five-on-five. | 5 | 7-5-1 |
| 16 | Jets | Nino Niederreiter | I really could have chosen any member of Niederreiter's line, which also consists of Adam Lowry and Mason Appleton. Those three have been working magic together, outscoring opponents 7-2 at five-on-five and controlling 63.7% of the expected goals. Niederreiter won the tiebreaker because his nine points lead the trio, and he recently recorded a hat trick against the Coyotes. | 1 | 6-4-2 |
| 17 | Coyotes | Matias Maccelli | After a really strong 2022-23 season, Matias Maccelli just continues to improve. Maccelli has eight assists and 10 points in 12 games, and he is one of the most fun players to watch when the Coyotes are on the tube. Whenever Maccelli gets the puck on his stick in the offensive zone, he is immediately looking for a teammate in a high-danger scoring area. I look forward to watching him more as the season progresses. | 1 | 6-5-1 |
| 18 | Sabres | Owen Power | Rasmus Dahlin had his coming out party last season, and now it's Power's turn. After an encouraging rookie campaign last season, Power has apparently elevated his game in 2023-24. The Sabres have been in full control of scoring chances, expected goals and actual goals with Power on the ice. He has helped drive play from the blue line, and he is a big reason why Buffalo has gotten the wheels turning again after a sluggish start. | 7 | 6-6-1 |
| 19 | Penguins | Reilly Smith | I'm aware that Evgeni Malkin looks like he's 27 again, but hear me out. Part of Malkin's success has been a result of playing alongside Smith, who was acquired from the Golden Knights in the offseason. Smith has fit in seamlessly on Malkin's line, and he has 11 points in 10 games to show for it. Smith has really added some pop to Pittsburgh's top six, which is good because the bottom six forwards leave a lot to be desired. | 3 | 5-6-0 |
| 20 | Wild | Joel Eriksson Ek | One of the biggest knocks on the Wild coming into the season was a general lack of five-on-five offense outside of Kirill Kaprizov. Eriksson Ek heard those knocks, and he answered in a big way. Through the first 12 games of the season, Eriksson Ek has six goals and 13 points, which puts him on pace to shatter his previous career highs. If he can keep this up, Minnesota becomes a more formidable offensive foe. | 1 | 5-5-2 |
| 21 | Flyers | Joel Farabee | The 23-year-old Farabee is off to an excellent start for the Flyers this season, and he seems to be much more comfortable in his second season under head coach John Tortorella. Not only does Farabee have nine points in 12 games, but he also has a plus-three goal differential and 61.7% expected goals share at five-on-five. Philly has to be very excited by what it has gotten out of several members of its young core, but especially Farabee. | 4 | 5-7-1 |
| 22 | Predators | Tommy Novak | After getting called up late last season, Novak got hot at the NHL level, and he is out to prove that was no fluke. Few Predators have taken to Andrew Brunette's system quite like Novak. He is attacking off the rush and getting rewarded. His 10 points are third on the team, behind only Ryan O'Reilly and Filip Forsberg, and he has developed nice chemistry with linemates Kiefer Sherwood and Luke Evangelista. | 1 | 5-7-0 |
| 23 | Blues | Jordan Binnington | The Blues' season has not gone at all as I expected so far. The results have largely been the same, but the path there has been different. St. Louis can't get anything going offensively, and Binnington has been bailing them out. His 3.91 goals saved above average are 12th in the NHL, and he has faced a barrage of shots behind a porous defensive group. | 4 | 5-5-1 |
| 24 | Senators | Brady Tkachuk | Tkachuk leads the Sens in goals with eight, and he has 11 points in 10 games. He's off to a good start, but he also stepped in front of reporters and took a bullet for his head coach. That, folks, is called being a team player. Will it work? That remains to be seen, but for now, Tkachuk is doing his part to keep D.J. Smith behind the bench. | 6 | 4-6-0 |
| 25 | Capitals | Dylan Strome | The Caps have had trouble lighting the lamp so far, but not Strome. He has six goals in 10 games, and that is double the next leading goal scorer. Strome has really been a pleasant surprise since Washington added him last year, but the team really needs to get Alex Ovechkin going. Two goals in 10 games is not close to the pace he needs to catch Gretzky. | 1 | 5-4-1 |
| 26 | Canadiens | Sean Monahan | Monahan has his 2022-23 season cut short due to injury, but he is fully healthy now, and he has become a force for Montreal in front of the net. The Habs have been feeding Monahan down low, especially on the power play, and he has six goals as a result. Monahan has been one of the biggest positive surprises so far, and if he keeps this up, he will be an attractive player for contenders ahead of the trade deadline. | 2 | 5-5-2 |
| 27 | Kraken | Oliver Bjorkstrand | It has been a rough start in Seattle, but Bjorkstrand has been a bright spot for the Kraken. With 10 points in 13 games, he has been a consistent producer on offense, and his five-on-five impacts are among the best on the team. Bjorkstrand has been carrying his weight, but the rest of the roster needs to step up its game. | 1 | 4-6-3 |
| 28 | Flames | Nikita Zadorov | Look, it's been a brutal start for the Flames, so it's a little hard to find real standouts on this roster. Having said that, Zadorov deserves some credit for the season he's having so far. Not only did he keep it real about the Flames' struggles in the media, but he has also posted some very strong underlying numbers. Calgary has controlled 58.0% of the expected goals with him on the ice at five-on-five, but Zadorov has been the victim of some terrible shooting luck at both ends of the rink. | 1 | 4-7-1 |
| 29 | Blue Jackets | Adam Fantilli | Fantilli is the correct pick here for a couple of reasons. First, he is averaging 0.5 points per game as a 19-year-old, but he is also giving Blue Jackets fans some hope for the future. This will be a long season in Columbus, but Fantilli will be fun to watch, and he will move some jerseys off the racks in the team store. | 2 | 4-5-3 |
| 30 | Oilers | N/A | I cannot, in good conscience, hand out MVP honors to anyone on a team that has dropped from the No. 1 spot to No. 30 in a matter of weeks. Honestly, it's hard to even find honorable mentions. Almost everyone on this Oilers roster has underperformed, and the seat underneath head coach Jay Woodcroft is nearing a boiling point. | 10 | 2-8-1 |
| 31 | Blackhawks | Nick Foligno | Just kidding, it's Connor Bedard. The No. 1 overall pick has lived up to the billing, and he recently had a three-game goal streak going. Bedard has looked like a budding superstar, using his swift skating ability and lethal shot to create offense for a Blackhawks roster that is largely made up of scoring black holes. | 1 | 4-7-0 |
| 32 | Sharks | Macklin Celebrini | The Sharks got on the board with their first win on Tuesday night, but this is still going to be a very long season in San Jose. The light at the end of the tunnel is Celebrini, who has eight goals and 14 points in eight games with Boston University. That's jaw-dropping stuff considering he is only 17 years old. Suffering through this season will be worth it if the Sharks can land Celebrini next summer. | — | 1-10-1 |
Our Latest NHL Stories