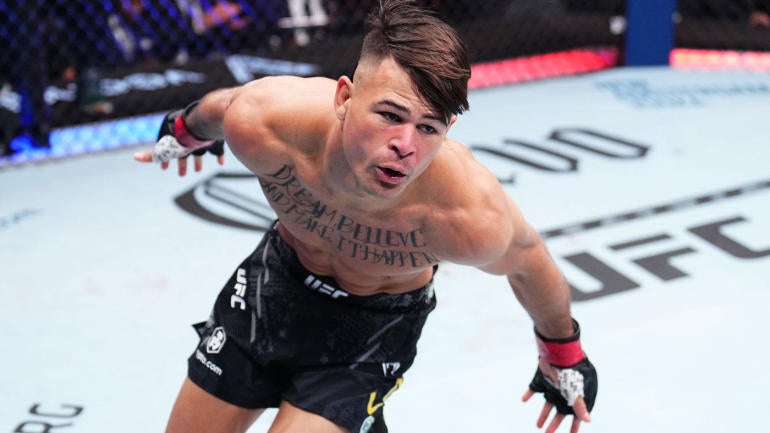 Getty Images
An anticipated chess match between two dynamic submission specialists quickly dissolved into a fast, wild striking affair. Diego Lopes kicked off UFC 295's main card with a bang, stopping Pat Sabatini in a matter of minutes at Madison Square Garden in New York on Saturday.
Two talented grapplers can sometimes negate each other's primary weapons, leading to a stand-up battle. Flashes of that were seen in the brief pay-per-view opener. Sabatini opened with long distance kicks but Lopes caught him in close. Sabatini tried to employ offensive wrestling, but Lopes shook him off before landing a tide-turning blow. Lopes swarmed Sabatini with punches, dropped him against the fence and finished him with ground-and-pound in under two minutes. 
Lopes improved to 23-6 as a professional mixed martial arts fighter. He impressed in a losing effort against ranked UFC fighter Movsar Evloev in his debut before delivering consecutive first-round stoppage wins against Gavin Tucker and Sabatini. Sabatini (18-5) dropped to 6-2 in the UFC. 
Lopes looked to be a very impressive prospect in the featherweight division and could be ready to test himself against fighters ranked in the UFC's official featherweight top 15.
Can't get enough boxing and MMA? Get the latest in the world of combat sports from two of the best in the business. Subscribe to Morning Kombat with Luke Thomas and Brian Campbell for the best analysis and in-depth news.